What You Need to Know Today: October 5
Good afternoon, Early Risers!
Here's what you need to know
TECH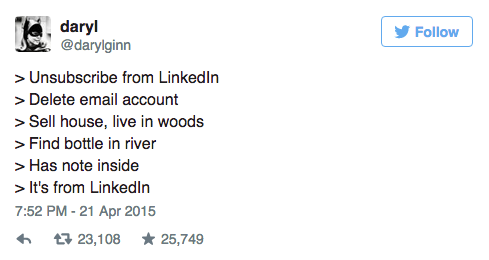 We can relate. LinkedIn will pay $13 million for sending those awful "Add Connections" emails. You know the ones reminding all your contacts you want them to be part of your "personal network?" Fortune has the full story.
+ Twitter knows how much money you make. You heard the news, Twitter co-founder Jack Dorsey was named CEO. But here's something you maybe haven't heard, yet. Twitter can guess, fairly accurately, how much money you make based on the words you tweet. #ByeFelicia
MVP Happy Hour. "A whole generation of startup founders are drunk on the fantasy of an afternoon project that turns into a unicorn. So, they pump out one sloppy project after another — and they abandon these products with equally little consideration." Everything you thought you knew about Minimum Viable Products is wrong. Read this.
CAREER
How to qualify for a free Super Bowl ad. "Since being founded as a "Made in America" shorts brand in 2011, the company has grown to include tops, swimwear, and women's clothing. The brand has famously vowed never to make pants and called out Abercrombie & Fitch for selling cargo shorts. Now, Chubbies could be up for a free spot in the Super Bowl. The brand is one of 10 finalists for an Intuit QuickBooks contest for a free ad," says Business Insider. If you ask me what brand I think best represents millennials, I'd say Chubbies is up there. This fast-growing apparel startup checks off almost all the boxes of what millennials actually want: They're proudly made in America; they sell nostalgia (elastic-band shorts you wore as a kid); they sell through an e-commerce website; their marketing is actually funny (see: two open letters to Abercrombie); and their social-media game is strong. If you want to build a business that qualifies for a free Super Bowl ad (worth $5 million, btw), do like Chubbies did in 2011 and start with a simple vision, with a clear stance (vow to never make pants — people are drawn to strong opinions), and build one quality product that can be scaled according to customer demand. Read this for more ideas.
+ On another note: American Apparel filed for Chapter 11 bankruptcy.
"Would you call yourself a racist? I bet you wouldn't, and I bet you are. Take the Harvard Implicit Association Test (IAT) for race as many times as you like. I'm not a betting man, but I'll bet you come up as racist, regardless of race. Surprising? Perhaps. I've come to realize that the questions most investment advisers (and investors) ask are the wrong questions, or incomplete. Even if you have only $100 to invest, this is important to explore. Most advice and decisions center on one question…" says Tim Ferriss. Read Tim's latest blog post: Rethinking Investing: Common-Sense Rules for Uncommon Times.
LIFESTYLE
Forget speed-reading — here's how to speed-write. "A lot of people confuse a thinking problem with a writing problem. In order to write quickly, I need to see the line of argument very clearly. If I don't fully understand the line of argument, I cannot write even a paragraph. My brain won't let my pen move," says Justin Fox, editorial director of the Harvard Business Review Group. Justin reveals the secret to unlocking the logic of an argument in this interview series with Bob Pozen, chairman emeritus of MFS Investment and senior lecturer at Harvard Business School.
"If you think golf is a great game to connect with customers," says Steve Siebold, author of How Rich People Think, "wait till you try the lake!" It's no surprise millennial's will pay for experiences over things (take my friend who paid $150 to see Taylor Swift this weekend). But what about senior-level executives at Fortune 500 companies? It turns out these old farts like to party, too. Siebold explains, how his $1.5 million summer home more than paid for itself in a year.
Want to work with The Daily Brief? We're looking for 10 millennial go-getters who are passionate about entrepreneurship, new technology, and living life well as a twenty-something to help us grow The Daily Brief. Email us at daily@earlytorise.com for more information.
#NOWYOUKNOW
Guess what company's inventors surpassed $1 billion in royalties? Answer.
(I remember doing a presentation on these guys in my first kinesiology class in high school).
Did a friend send you this? Get The Daily Brief sent straight to your inbox every weekday. Click here.
Check out what you missed in the last Daily Brief here.