What You Need to Know Today: October 13
Good afternoon, Early Risers!
Here's what you need to know
TECH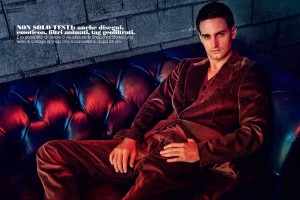 These photos aren't disappearing any time soon. Jobs owned the dad-jeans-and-turtleneck look, Zuckerberg kept American Apparel afloat in his basic-hoodie-and-tee wearing peak, and now Snapchat CEO Evan Spiegel has the fur-coat-with-puppy look on point. The 25-year-old was this month's cover star for Vogue Italy. For more sultry stares and high-fashion pics of Mr. Snapchat, click here.  
The 'huge problem' with the luxury Apple watch. "You never actually own a Patek Philippe, you merely look after it for the next generation."  — Patek Philippe. As a twenty-something, you've probably never made any significant 'luxury' purchases in your lifetime. Maybe you've bought a car, or spent $2,000 on a new MacBook, you intend to keep for the next 4 years. But, my guess is you've never bought anything you intend to last more than 10 years, let alone, a generation. This is the huge problem Tag Heuer's CEO Jean-Claude Biver brought up with CNBC on Monday, regarding Apple's luxury watch line. "Above $2,000 the connected watch has a huge problem. There is no eternity, it means it will become obsolete, and who wants to buy a $10,000 – $20,000 watch, that becomes obsolete after five or 10 years?" This timely dig at Apple comes less than a month away from Tag Heuer's launch of its forthcoming smartwatch that boasts a more 'modest' $1,800 price tag. Something I thought was cool was this countdown page with the brand's history — good idea for your next product launch. 
Chipotle Information Officer (CIO). Your favorite Mexican fast-food restaurant just hired its first ever chief information officer. Here's why.
CAREER
Grab a Miller? It was announced today that AB InBev (think: Budweiser) is buying SABMiller (think: Miller Lite) for £68 billion ($104 billion). Shareholders still have to agree to terms, but assuming the deal goes through, it will mark the biggest beer deal in history… Yawn. Unless you have shares in either company, you're probably as bored by this news as I am. However, stories like this do make me wonder what kind of negotiating went on to make a deal this size happen? Though I can't give you any specifics, I do know a story about a smaller negotiation that took place involving ETR founder Mark Ford that has some of the best lessons on negotiation I've ever read. Enjoy responsibly.  
12 lessons you learn at Stanford Business School. "You have two ears and one mouth. Use them in that ratio. You learn more when you listen than when you talk." Uber executive Matt Wyndowe (who previously spent many years in biz dev at Facebook) took the time to outline the key takeaways from his years at the Stanford Graduate School of Business. 
What to do when someone gives you a negative Yelp review. "I knew I'd found the right resort for us when I read people complaining about the lack of a swim-up pool bar, no kids' club, and no nightclub," says Amanda Eaton, of Toronto. Okay, maybe the kind of review your mom would find value in, but you get the idea. Most negative reviews are projecting the kind of person that is writing the review. This kind of logic is now starting to be applied in hiring processes. Don't be surprised if your future boss asks for negative references.
LIFESTYLE
Playboy is calling your bluff. For years, men have been telling their wives and girlfriends they buy Playboy for the articles. In March, we'll find out if that's actually true, when the iconic magazine will no longer feature nudes in its print magazine — an effort to attract millennial readers. Here's what Playboy will have more of. 
'Disposable Laptop' (and phone) "If you visit China or South Korea, probably Russia, and other countries, you can assume your computer will be hacked within moments of turning on WiFi or connecting to the internet. Count on it. Do not store passwords or sensitive company data on it. When you get home, it will probably still be infected and continue to communicate with the mothership. You can assume your firewall, AV, and anti-malware will not prevent this. If you work for a big company, talk to IT first about this. If you don't, you may want to find an old laptop to take with you, and wipe it when you get back. If you think this is paranoid, Google it. By the way, if you're an executive of any company of significance, and/or you're staying in the major hotels in major cities: your room is quite possibly bugged. I am not making this up." Andrew Corradini has a list of 21 unusual items savvy travelers never leave home without. This list is pretty shocking.  
Next Wolf of Wall Street… Leo DiCaprio acquired movie rights to the VW scandal. 
Are you enjoying The Daily Brief? Drop us a line telling us what you like and want more of at daily@earlytorise.com.
#NOWYOUKNOW
The world's 50 best bars list is out…why you should care?
John Carlton "the most ripped-off" copywriter often talks about when you're attending a business seminar or event, the real networking happens after hours, at the bar. He's right. Which is why you should take a minute and read this list. Who knows, you might find your next client, business partner, or startup idea at one of these places.
Did a friend send you this? Get The Daily Brief sent straight to your inbox every weekday. Click here.
Check out what you missed in the last Daily Brief here.