What You Need to Know Today: January 4
Good afternoon, Early Risers!
Here's what you need to know
TECH
Ex-Machina New Year's resolution. In 2010 he learned a new language. In 2011 he decided to only eat meat that he butchered himself. In 2012 he decided to return to coding. In 2013 he vowed to meet someone new every day in person. In 2014 he decided to write one thank-you note every day. And last year, Facebook CEO Mark Zuckerberg vowed to read one book every two weeks. This year, Mark Zuckerberg's New Year's resolution is bigger and bolder than ever. Think the plot of Ex-Machina. I wouldn't be surprised if the Zuck puts out a call-to-action at the end of 2016 looking for someone to administer a Turing test on his next project.
How to make your $10 headphones sound like $200. Available spring 2016.
Uber regrets. Your hangover, embarrassing drunk dials, and ruined silk tie were child's play compared to your credit card statement from New Year's Eve. And I'm not talking about the 2 bottles of "sparkling wine," or the 10 G&Ts and 8 shots of Jager, you and crew threw back. I'm talking about your safe ride home. If you took an Uber on NYE, you're probably still reeling from your bill. But before you start writing your all-Ramen-noodles grocery list for the month of January, find comfort knowing you're not alone.
CAREER
The new "Hardest Working Man in Show Business." At 16, James Joseph Brown was convicted of robbery and sent to a juvenile detention center in Toccoa, Georgia. On June 14th, 1952 Brown would receive parole and shortly after, begin a career that would span six decades and earn him the title of the "Hardest Working Man in Show Business." Little did we know, 48 year's after Brown would be released from prison and start his career, a pudgy 16-year-old kid in the suburbs of Atlanta who was handing out mixtapes to bus drivers, was about to start his own career in show business that would eventually steal the throne away from the late James Brown for hardest working man in show business. This kid was Ryan Seacrest. Here's how Seacrest went from 'Idol' to Empire.
What advice would you give a young person starting their career? 
Michael Zink, head of Southeast Asia for Citigroup: If you want to stand out and you want to rise quickly, go take on a problem that needs to be fixed. Don't seek to enter a team that is already doing great and is highly thought of, because what impact are you going to have there? Read more of his advice here.
LIFESTYLE
Why your New Year's resolutions are useless.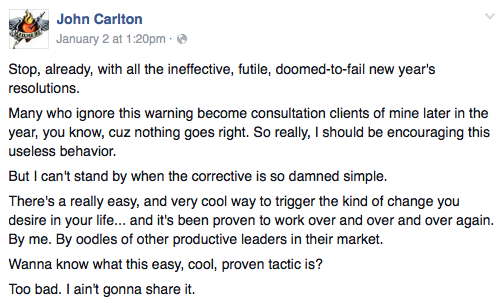 John Carlton does share his easy, cool, proven tactic here. Enjoy.
#NOWYOUKNOW
The Secret to Getting Rich
From CelebrityNetWorth.com
To get the full impact of The Richest Man in Babylon's wisdom, you should probably give your library card a workout and read the whole thing. But perhaps the most enduring piece of advice found in the book can be summed up in a few quick sentences, and it's a bit of knowledge that almost everyone would do well to remember. Within the context of the story, the advice is given by Arkad, the titular wealthy Babylonian, after some of his friends ask him how he became such a financial success:
"Say to yourselves, 'A part of all I earn is mine to keep.' Say it in the morning when you first arise. Say it at noon. Say it at night. Say it each hour of every day. Say it to yourself until the words stand out like letters of fire across the sky."
Did you like today's Daily Brief? Share it with a friend. Hit Forward on this email and tell your friends about us. We'd greatly appreciate it 🙂
Did your friend just take our advice? Get your own copy of The Daily Brief sent straight to your inbox every weekday. Click here.
Are you enjoying The Daily Brief? Drop us a line telling us what you like and want more of at daily@earlytorise.com. 
Check out what you missed in the last Daily Brief here.