The Power of a Mastermind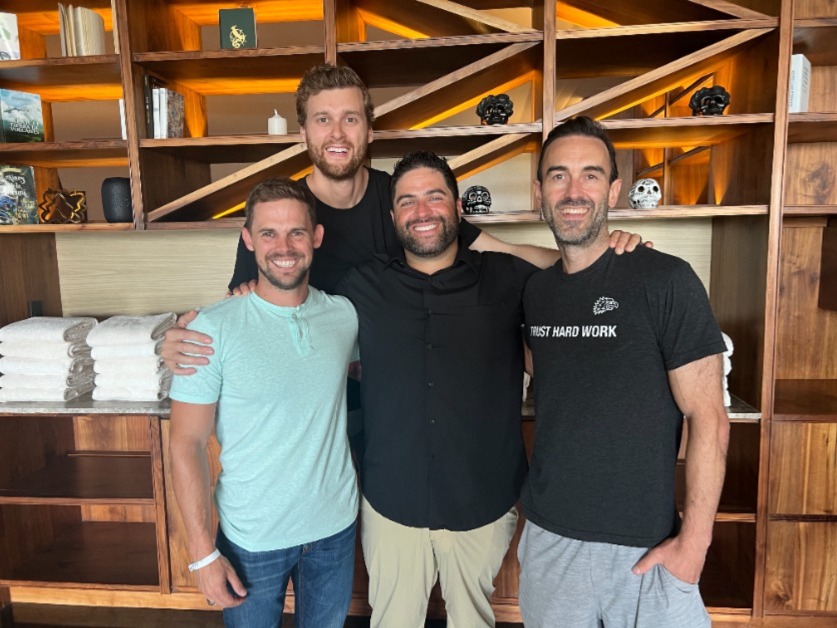 The concept of a mastermind was introduced to me by Napoleon Hill in his classic book, "Think and Grow Rich."
Hill says, "No mind is complete by itself. It needs contact and association with other minds to grow and expand." If you've spent any time on this Earth, you know this is a fact… We need others to grow and expand. A person on an island will have a tough time innovating, growing, and improving their life.
This is where the power of a mastermind is incredible.
One of my favorite Bible verses is Proverbs 27:17, which says "As iron sharpens iron, so one person sharpens another." Regardless of your spiritual beliefs, we can all agree that we have the capability to sharpen one another.
Whether it's an encouraging word, an idea, sharing a mistake we've made in our business, or simply providing an extra set of eyes to a problem that requires a solution… Iron sharpens iron.
That's always been my favorite part about attending a mastermind event. Instead of living all alone on "lonely entrepreneur island," you can find people like you. You can learn from others, share your struggles, and discuss solutions with people that collectively create a "master mind."
It's also a great opportunity to meet others who share the same day-to-day life as business owners. As entrepreneurs, we're a unique breed.
I'm going to start this article by confessing something… Leading up to Craig Ballantyne's Unstoppable Mastermind in May 2023, I was nervous.
I didn't know what to expect stepping into a room of 30+ high-performing men & women from around the world.
Masterminds weren't new to me… I just knew THIS mastermind would be different.
It's Not What You Learn; It's Who You Learn With
The energy I felt inside the Canopy Hotel in Cancun, Mexico was off-the-charts.
It'd been a while since I'd been in a room that was responsible for generating hundreds of millions of dollars in revenue among 30 people.
I had the privilege of speaking alongside some of the personal development industry's best coaches – Craig Ballantyne, Daniel Woodrum, and Gavin McHale.
30 men & women from around the world spent 2 days diving deep into a number of topics: Sales, marketing, taxation, copywriting, AI, entrepreneur mindset, overcoming challenges, international business structures, and much more.
And when we asked the attendees what was the most valuable part of the mastermind, you would think they would have said many or all of the topics I just listed right?
Wrong…
It was the networking… The new friendships… The connections they made throughout the 2-day event.
Don't just take my word for it. Here is what a couple of other attendees shared…
"Being with people who are excited about the same things I am and a little further down the road than me gave me a feeling of belonging that I didn't realize I was missing until I had experienced it." – KB.
Another attendee shared:
"I have nothing but gratitude for every moment at the May Unstoppable Mastermind in Cancun. Every second of the presentations is relatable to every entrepreneur in one way or another. This is my second mastermind and each time, I felt as if they were crafted specifically for me.
Being in the room with other "high performers" is simply priceless. It truly is invaluable. Finally, having access to the coaches is worth its weight in gold! The Mastermind experience is irreplaceable." – BF
These events are POWERFUL.
Here we were, entrepreneurs from across the globe with tons of team members, a mile-long list of responsibilities, managing businesses worth tens of millions of dollars… And we were hanging out in the warm ocean waters of Cancun, talking about life and our dreams.
In between sessions and after a day of learning is when people let their hair down, especially in a beautiful destination like Cancun. It's during these times that you find out how much we all have in common as entrepreneurs.
We all have the same fears, insecurities, and anxieties about running a business.
Few people know what the pressure is like.
A mastermind event gives you a unique opportunity to exchange ideas with others who live your similar reality.
Choosing the Right Mastermind for You
The quality of a mastermind event is based entirely on the type of people who show up.
If a mastermind is filled with people who want to be told what to do, don't want to participate, and don't want to add to the conversation, you will have a low-quality event or group. You are basically wasting your time and money.
Seek out mastermind events that are hosted by people that share your values and vision. Like attracts like.
This is one reason I was incredibly excited to attend the Unstoppable Mastermind hosted by Craig Ballantyne.
I knew going in that people who attend a Craig Ballantyne Mastermind event are likely people that:
Love their families and want to spend more time with them
Are hard-working people who want to find ways to be more efficient with their time… So they can build their business around their life, not the other way around.
How did I know this? Because that is who Craig is and what he teaches on his YouTube channel, Instagram account, and in his articles on Early To Rise.
I knew that I not only wanted to learn from people who follow Craig, but I also wanted to get to know those people on a deeper level.
Developing a Game Plan
Next to the connections I formed with my fellow attendees, walking away with a 90-day plan for my personal and professional goals provided incredible clarity.
The 90-Day Blueprint is a tool that Craig developed, and it's been instrumental in helping me and other coaching clients to outline our next steps.
If we don't have a roadmap, we at least need to know where we want to go.
If you're in New York and want to drive to California, you don't set the GPS for "California." You program a specific address so that if your desire is to arrive in San Diego, you don't end up over 500 miles away in San Francisco.
Knowing the destination and setting your roadmap is essential, and the 90-Day Blueprint covered at Craig's event is that roadmap.
Learning Through Teaching
The best way I've learned anything is by teaching it to others.
You can't be a passive observer at a mastermind event. If you're going to get something of value from an event this intimate, you need to be prepared to contribute.
Yes, you attend an event to learn from the presenters… However, in my experience, the best breakthroughs in my business came when I was helping another business owner with one of their challenges.
At the Unstoppable Mastermind, there was an opportunity to sit on a Hot Seat. It's way less intense and intimidating than it sounds.
In fact, sitting in one of Craig's Hot Seats at a one-day mastermind event years ago is how I developed my first-ever product on Amazon.
A Hot Seat gives you the opportunity to talk about your business challenge with the head facilitator(s) and attendees, gives you a chance to answer questions to gain clarity, and ultimately helps you with action steps to take when you leave.
If you get an opportunity to sit in a Hot Seat – take it!
You Get What You Put Into It
Like all things in life, you can attend a mastermind and get absolutely nothing out of it. How? Simply sit around answering emails, playing games on your phone, and don't participate in the sessions.
If you decide to attend a mastermind event, please take my advice and go all out.
Prepare in advance by showing up to the mastermind thinking about the following five questions:
What areas of your business do you need to improve upon?
Who do you want to get to know better?
What questions do you have, and who can help answer them?
What value can you provide to those in the room?
What do you want to take away from the event?
Mastermind events are an investment of time and money – two of your most valuable assets.
If you choose the right event, show up ready to work for a couple of days, and are prepared to participate, you'll 10x your investment. The only condition is that you use the knowledge gained from the mastermind to get laser-focused on your major action steps and have a plan to implement that plan before you leave.
Armed with your plan with clear action steps, and add in some accountability from your fellow attendees or a coach and you'll truly become UNSTOPPABLE.
If you'd like to learn more about our next mastermind event on September 13 & 14, 2023 in Cancun, Mexico – send an email to support@earlytorise.com with the subject line "Mastermind."