My brand NEW winter recipe
TGIF. Just like you, I love Fridays. But that's because I get to cook a brand new recipe for you (below).
You know, in my Master Class, I talk a lot about the fat-burning benefits of legumes (that's lentils and beans). They're full of fiber and help you lose a ton of weight.
[Chef Tip Alert] => Anytime you can add canned beans to casseroles, stews, or salads, do it. Just drain and rinse them, and they are ready to use in a minute. For instance, add garbanzo beans to your beef stew. Add black beans to romaine lettuce, avocado and tomato for a great salad. Or add navy beans to almost any soup.
In my book Eat More, Burn More I have included many delicious recipes that incorporate beans for your tasting pleasure:
Huevos Rancheros on page 30
Mexican three bean salad on page 71
Southwestern egg rolls on page 81
Black kale chili on page 123
Mexican chili rellenos on page 157
There are also some in my 5-Minute Recipes Under $5:
Mississippi caviar on page 6
Crunchy garbanzos on page 7
Black beans hummus on page 8
Red lentils and sausage on page 3 of the dinner section
Turkey sausage and split peas on page 4 of the dinner section
Pork ribs and black beans country stew on page 5 of the dinner section
Braised pork shoulder and split peas on page 10 of the dinner section
And more. That's how important beans are.
But beans really become MAGNIFIQUE when they are prepared Mexican style. Like in my new Black-Eyed Pea Green Chili, for instance.
This is a very easy and quick recipe (20 minutes to prep, 20 minute to cook) that is not only fat burning, but absolutely delicious. Listen, I served it to my wife Carissa last night and she said: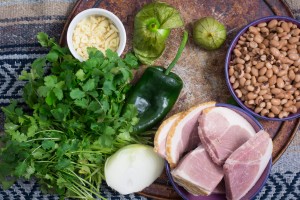 "Huh! Yum!" I think that means "OMG! My husband is AMAZING! This chili is so AWESOME! Thank you for cooking, my love!" in wife language, but I'm not sure.
Anyway, here's a picture of all the ingredients needed.
I start by searing the ham or Canadian ham hocks in a Dutch oven, and that already looks fantastic.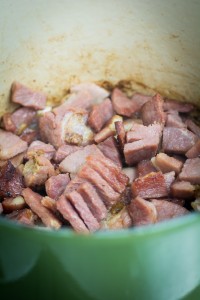 Then onion, garlic, a few aromatic spices like coriander and cumin, and the ham simmers gently.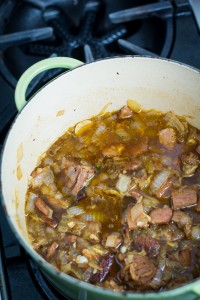 But the magic of this recipe relies on the herbs and aromatics, like tomatillo and poblano pepper, which is a fairly mild chili pepper. I blend everything together to make a mild, full flavor "Mexican pesto," if you will.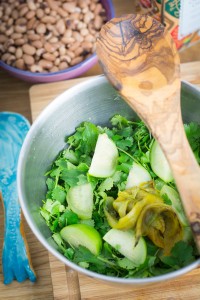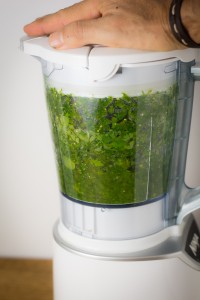 When you add the aromatic mixture to the beans and ham, that's when things really start to happen. The chili is mild but has some depth; it's extraordinarily tasty and fantastic on a cold winter night.
Your family will enjoy this new winter recipe, and I'm sure it will become a favorite, as it has become in my family. Don't hesitate to let me know how it turns out on the Eat More, Burn More Facebook page.