Homemade Chicken (Rotisserie Recipe)
I've been there. When my wife and I are busy, tired, in a hurry, and the kids are screaming, we sometimes rely on "Hot, Grab, and Go" rotisserie chicken. Our grocery store offers them for a good price, around $8 or $9. Looks good. Homemade chicken is usually the last thing we're thinking about at that point.
What the grocery store doesn't tell you though, is that the chicken they use is more often than not the cheapest chicken possible. It's full of antibiotics, handled poorly, heavily processed in very bad conditions in terms of animal welfare, and frankly not that tasty.
Furthermore, it's often over-salted or rubbed with spices full of MSG, which you want to avoid if you're interested in taking care of your body temple.
On page 97 of Eat More, Burn More, there is one of my favorite recipes (You recognize my favorite recipes with the white-on-red "FAV" tag on the photo page).
Sure, rotisserie chicken at your grocery store may look appetizing. But did you know you can make the very same one with very little effort, while controlling the ingredients you put in it, and more importantly, the kind of chicken you eat?
Why wouldn't you make it yourself?
Here are 6 reasons why you should:
It only requires 20 minutes of active time.
Very minimal clean-up.
Choose organic free-range chicken instead of store-bought, antibiotic-loaded, gross factory-processed chicken.
Avoid spices with MSG that stores frequently use.
Save money.
Be proud of yourself because you made your own.
In a nutshell, all you really have to do is sprinkle spices you like and drizzle extra-virgin olive oil on the chicken, throw it in the oven, and wait until it's perfectly cooked, deliciously moist, with a golden-brown crust that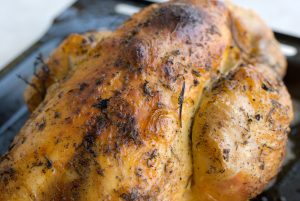 is irresistible.
[Chef Tip Alert] Don't forget to let the chicken rest for about ½ the time that it has cooked. That's very important in this recipe, but also in any roasted or grilled meat. Rule of thumb: if your chicken roasted in 1 hour, make sure you let it rest at least 20 minutes. Just take it out of the oven and cover it with aluminum foil.
The result? A much more tender and moist meat. This works because the meat moisture is pushed to the very inside as it cooks under high heat. If you serve it right away, it will be tougher and drier, which nobody wants. Resting it allows the meat to slowly rehydrate from the inside out, and trust me when I say it makes ALL the difference.
Active time: 20 minutes | Cook time: 1 hour | Yield: 4 servings
Ingredients:
1 large chicken, patted dry
2 thyme sprigs
2 cloves of garlic, minced
1 lemon
1 tbsp extra-virgin olive oil
salt and pepper, to taste
Preparation:
Grate the skin of the lemon, and squeeze its juice.
Preheat the oven to 400°. Place the whole chicken into a roasting pan. Rub the thyme, garlic, and grated lemon on the skin. Season with salt and pepper. Rub 1 tbsp of the olive oil and the lemon juice all over the body of the chicken. Using kitchen twine, tie the legs together.
Place the pan in the oven and roast until the chicken begins to turn golden-brown, about 30 minutes.
At that point lower the heat to 350° and roast for another 30 minutes, until the bird is golden-brown all over and the skin is crisp. The chicken is done when the juices run clear from the thigh. Transfer the chicken to a cutting board and allow to rest for 10 minutes before carving.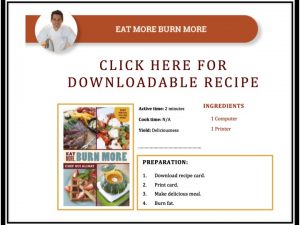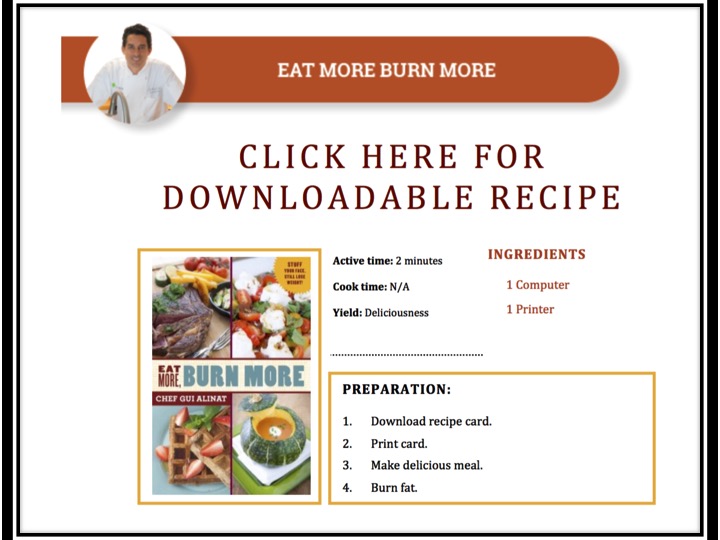 Follow this advice with roasted chicken, turkey, beef, pork tenderloin, grilled pork, steaks, and other meats.
Another tip, I place aluminum foil between the sheet pan I use and the chicken, so that clean up ends up being a breeze (only 1 piece to clean!).
Now, you can use any spices you like to really create your own. Here are some of my favorite healthy combinations:
Garlic, thyme and lemon
Fresh ginger
Fresh oregano and garlic
Sriracha and sesame oil
Cajun spices
Lemon pepper
Citrus zest and lemon pepper
Rosemary and Dijon mustard
Honey and Dijon mustard
Curry, cumin, and orange zest
Trust me and follow my advice. Try my recipe on page 97 once, and see for yourself how easy this is. Remember to grab an organic, free-range chicken. This makes a big difference in terms of taste and good health.
To your great success,