Push Fear Aside — And Just Start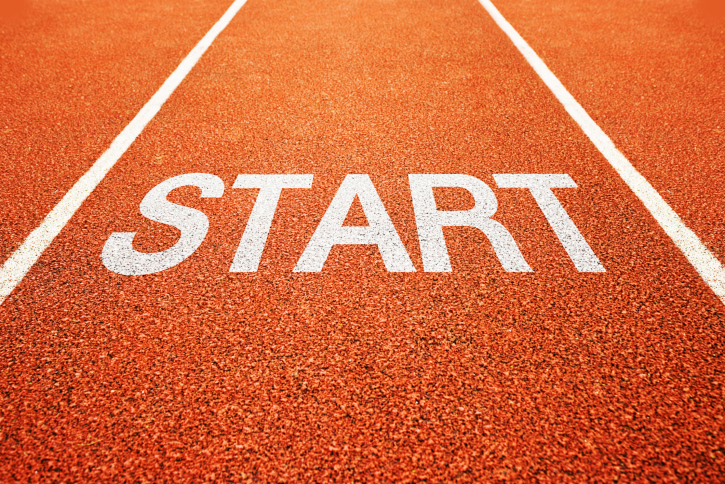 After ironing my button down shirt, looping my tie just so, pouring a cup of coffee in my to-go mug, and grabbing my lunch, I took a quick look in the mirror as I walked out the front door.
Sigh.
I was on my way to work, which on this particular day consisted of driving about 150 miles round-trip over the course of four and half hours to show a piece of commercial property to a business owner who most likely would not be putting in an offer.
I didn't hate commercial real estate. But I didn't love it, either. I had this strong feeling that there was something else out there waiting for me; but at the time, I just wasn't quite sure what that was.
So I continued to do the same thing day in and day out – my only savior listening to my favorite podcasts during my long and lonely drives. I loved listening to podcasts like NPR, Smart Money and Pat Flynn's Smart Passive Income. These podcasts were educational and they were entertaining, which made my drives, my workouts and my daily dog-walking sessions more productive.
I especially liked listening to podcasts that were run by entrepreneurs, where they would interview other professionals, unveiling insights and experiences that I found so interesting. It was a glimpse into a life that I'd never known.
And then one day, it hit me.
I was driving, about an hour and some odd minutes to go before I would arrive at home, and the airwaves started to crackle. I was out of podcasts.
WHAT? Oh no… still over an hour left and nothing to listen to? (Spoiled, I know.)
It was at this moment in time that I stopped and said to myself, "A-HA!", and this is how it went:
I never wanted to be in the car and run out of podcasts again.
I knew that if I felt this way, then others must, too. I thought, "Why hasn't anyone created a daily business podcast yet?" It would guarantee – even for those who found themselves in the car every day, or who worked out every day, or who went for daily walks – that they would have fresh content waiting to accompany them. Genius!
And then came the doubts, the fear and the hesitation.
Have you ever had an A-HA moment before and by the time you got home and started to write it down, or started talking to a friend about it, you had doubts? Or suddenly, your idea didn't seem as attainable as it did before?
There are a lot of steps in between an A-HA moment and success, and there is only one thing you can do to start building that bridge: JUST START.
I knew I had to just start if I was ever going to attain my goal of producing a daily podcast that interviewed today's most successful and inspiring entrepreneurs.
I could have sat in my car for months, even years to come – on a partnership track with an amazing group of commercial real estate brokers – after I had my A-HA moment.
I could have been intimidated by what others would think of me when I told them I was leaving a secure job to venture out on my own.
I could have been too scared to start – for fear that my idea wasn't good enough, or that I didn't know the slightest thing about how to create a podcast, so how on earth could I possibly create one of my own?
A million things stood in my way – roadblocks, massive construction and detours of all shapes and sizes.
But this A-HA moment – this A-HA moment resonated with me. I wanted to fill a niche out there – solve a problem for people who were in the exact same situation as me. I wanted to inspire people who were heading out on that dreaded drive to work, or those who were heading out for a jog or walk and wanted to learn something along the way.
I wanted to let people just like you know that you're not alone if you're an entrepreneur – that even the most successful entrepreneurs of our time have failed and have faced massive challenges. But they've gotten back up, and they've tried again.
Once I realized that I had to just start if I ever wanted my passions to turn into something real, I started looking online for resources on how to create a podcast.
I also found out who else might be in the industry who was close by to see if I could find a mentor to help guide me – someone who had already been down this road before. I also purchased a ticket to a conference that was going down in one month's time.
Just start.
I didn't quit my job the next day, nor did I throw all caution to the wind and ditch my commitments.
All I did was just start. I started waking up 30 minutes earlier in the morning, and staying up 30 minutes later at night. I would spend that time researching, learning more about what was out there and reaching out to people who knew what they were doing and who were more than willing to help me start my own journey.
When I attended that conference, I was nervous about meeting the big hitters in the industry. But that didn't stop me from approaching them and asking for their help.
I was nervous about launching a daily show – what if no one tuned in to listen? But that didn't make me hesitate one bit when I submitted my podcast to iTunes.
And throughout my journey – even seven months after I launched – I still challenge myself every day to just start.
I just launched EntrepreneurOnFire's mastermind community, Fire Nation Elite, and I've never run a mastermind before. But I knew I had to start one because I knew how important a community would be for budding entrepreneurs. I knew that Fire Nation Elite would be revolutionary in peoples' lives – for people who don't have support or a like-minded community of individuals to bounce ideas off of and go to for motivation.
It would be impossible for me to perfect a mastermind group when I've never started one before. But because I went out on a limb and just started doing it, I will learn how to perfect it through making mistakes and through learning from others in the mastermind community.
If I hadn't told myself to just start, then I wouldn't be #2 in iTunes under Business Podcasts. I wouldn't be receiving over 400,000 unique downloads in over 145 countries every month. I wouldn't have successfully launched Fire Nation Elite.
The biggest lesson I've learned throughout my journey is that you have to just start.
Every day I have to remind myself that things don't have to be perfect. I don't have to have a perfectly planned course of action to just start doing something that will get me one step closer to my goals.
You will never learn how to make things better, or what to do differently in order to make something successful, unless you just start.
What's one fear that has been holding you back, and how will you overcome that fear and just start?
[Ed Note
EntrepreneurOnFire
is a daily podcast, hosted by John Lee Dumas, interviewing today's most successful and inspiring entrepreneurs. Since our launch in September of 2012, we've had the pleasure of featuring entrepreneurs like Seth Godin, Gary Vaynerchuk, Barbara Corcoran, Tim Ferriss and over 300 more.
EntrepreneurOnFire is all about Inspiring Millions. We want to help you find the inspiration you're looking for to launch into your own entrepreneurial journey.]