One Thing To Do No Matter What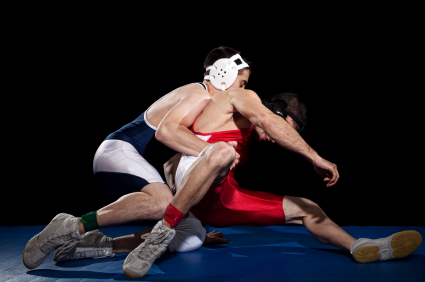 In the fall of 2007 I heard an Olympic champion and passionate public speaker move an audience to tears, several times, with his tale of tragedy, perseverance, redemption, and ultimately, heartbreaking courage. The man was Dan Gable, the legendary wrestler with an unmatchable work ethic and dedication to success. Even today his accomplishments remain unparalleled in the sports world. But more powerful than his physical attributes was his personal story…
Gable grew up in Waterloo, Iowa with an obsession for wrestling. He started making a name for himself in high school, and was living a relatively normal life of a small-town American boy. That was until tragedy tore apart his family during a weekend vacation.
While Gable and his parents were out of town, his older sister was raped and murdered. He was devastated by these events and blamed himself for what had happened. His sister's death haunted Gable for his entire life, and at that young age he turned his rage inward and became obsessed with training and for redeeming his sister's life through his performance on the wrestling mat.
His training habits became legendary. He was the first one into practice and the last one out. Workouts were performed with the mantra of "Push to Collapse." Each session was dedicated to working so hard he would have to be physically carried off the wrestling mat by the end. One by one he exhausted all of his training partners on his high school and eventually college teams.
While he was never able to truly break himself, his training led to a high school championship and an undefeated record in college that spanned several years. That was until the unthinkable happened.
Wrestling in his final match at the NCAA level, just before Gable was expected to go on and win the Gold medal at the 1972 Olympics, his unbeaten record came to an end in a shocking upset in the finals. The world was stunned. In tears, Gable left the mat in utter disappointment, feeling he had let down the memory of his sister. But he soon returned to training his Push to Collapse approach.
Eventually he would have his redemption. Gable went on to win the Gold medal at the '72 Olympics by dominating his competition, no doubt in large part due to his training philosophy and dedication to working harder than anyone else in the world.
He told of one practice where he would drag his teammates out of the locker room one by one at the end of a session with the hopes they would push him to the brink of exhaustion. But still, it never happened. He was never able to push to collapse, but this attitude of pushing through the dark days surrounding both his sister's death and his devastating loss in the final match of his college career was what allowed him to become the best in the world at what he did. It allowed him to become a legend.
What drive and determination. Dan Gable was truly a man who was determined to make the most of the gifts he had been given.
Do you hold the same attitude?
Are you willing to keep on pushing?
Are you determined, no matter how bad it gets, to keep on taking action?
Everyone suffers through setbacks.
We all have dark days and dips in the road.
But there remains one undeniable truth. No matter how bad things might feel, no matter how tough your current situation, the truth is someone, somewhere, in worse circumstances than yours right now, was able to rise up and overcome those obstacles to go on and succeed at achieving their dreams.
There was once a girl raised in the slums of Chicago. She was repeatedly assaulted as a young woman. She had an underprivileged background and had to fight against stereotyping based on the color of her skin. But each day she kept on pushing. She had a dream for herself, a vision for her life, and goals for her career. One day at a time she continued to take action. She worked and kept on pushing, earning opportunity after opportunity. She didn't quit.
Eventually she had a breakthrough in a small TV market, after which she earned another opportunity and then another. Over time, this young woman, Oprah Winfrey, would become an inspiration to millions of women. All because she did not quit even though the odds were heavily against her. Oprah kept on pushing.
Keep on Pushing.
This is a phrase that has popped up in countless replies to Transformation Contest members as they detail their struggles and hopes in their daily accountability updates. It's a phrase I've been posting for years to members of my fat loss website, on Facebook, and even in our daily ETR Q'n'A sessions.
When someone does well, "Congratulations, now Keep on Pushing" is my comment.
When someone is struggling, "Stay Strong. Keep on Pushing" are my words of advice.
It doesn't matter where you are in life, in business, or in your relationships, if you're going after something that matters, you just have to Keep on Pushing.
Just Act.
Just Ask.
Just Solve Problems for Others.
Just Ask for Help for Yourself.
Just Admit When You Are Wrong.
Just Connect. Just Grow. Just Help.
Just Push.
Just do it and stop finding reasons to postpone it.
When you get stuck, Keep on Pushing.
Learn your lesson, readjust your course, and Push again.
Use your leverage.
And Push.
Strain and struggle.
Dig Deep.
And Push.
Never give up on something that is important to you,
Back to Dan Gable. As he wrapped up his speech, he recounted a story with tears in his eyes and voice cracking. Recently, while away giving one of his many speeches, his daughter participated in an 800-meter race against the state champion. Gable's wife delivered the play-by-play commentary via cell phone.
It turned out to be a remarkable day for his daughter. She started strong, not only keeping pace with the highly-favored state champion, but eventually taking the lead down the home stretch. Two hundred meters to go, then one hundred. Her daughter was still in the lead. She was on the verge of a massive upset victory.
Suddenly, the line went silent. At first he thought he had lost the connection. Then moments later, in shock, his wife began to speak again.
Gable's daughter had literally pushed to collapse. Within meters of the finish line she had given everything she could and her legs had simply given out. She fell down within site of the finish, physically unable to go any further.
As Gable explained with great pride in his heart and tears in his eyes, "My daughter did what I could never do. She pushed to collapse."
No matter how dark the day, no matter how deep the dip in your life, when all else fails all you can do is keep on pushing. It's what you must do no matter what life throws at you.
Never lose your drive and determination. Never give up on something that is important to you. Keep on pushing through anything and everything. No matter what.
In what area of your life are you going to go and start pushing harder?