Words alone can't do full justice to my daily document routine. That's why I filmed a short video for you, where I bring you into my world and go through each set of guiding principles, one by one. I've even added a couple of new documents in the last few months.

I hope this will inspire you to create your own set of daily documents to review. These will help guide you to success.
Plus, you'll discover the simple Gratitude & Achievement journaling process that reminds to be thankful for the so many amazing things I have in my life. You'll get a lot of out that little exercise, too.
Let me know what you review on a daily basis by commenting below.
[Ed. Note. Craig Ballantyne is the author of Financial Independence Monthly, a complete blueprint to helping you take control of your financial future with a web-based business that you can operate from anywhere in the world – including a coffee shop, your kitchen table, or anywhere around the world where there is Internet access. Discover how you can achieve the American Dream and your financial independence here. You've never seen anything like this before.]
Claim Your FREE Copy of Mark Ford's New Book…Today!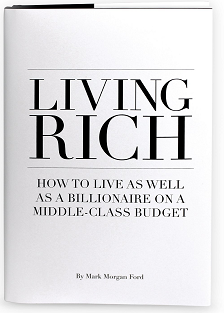 Living Rich: How to Live as Well as a Billionaire on a Middle-Class Budget.