Why the Masters Doesn't Start 'Til the Back Nine Sunday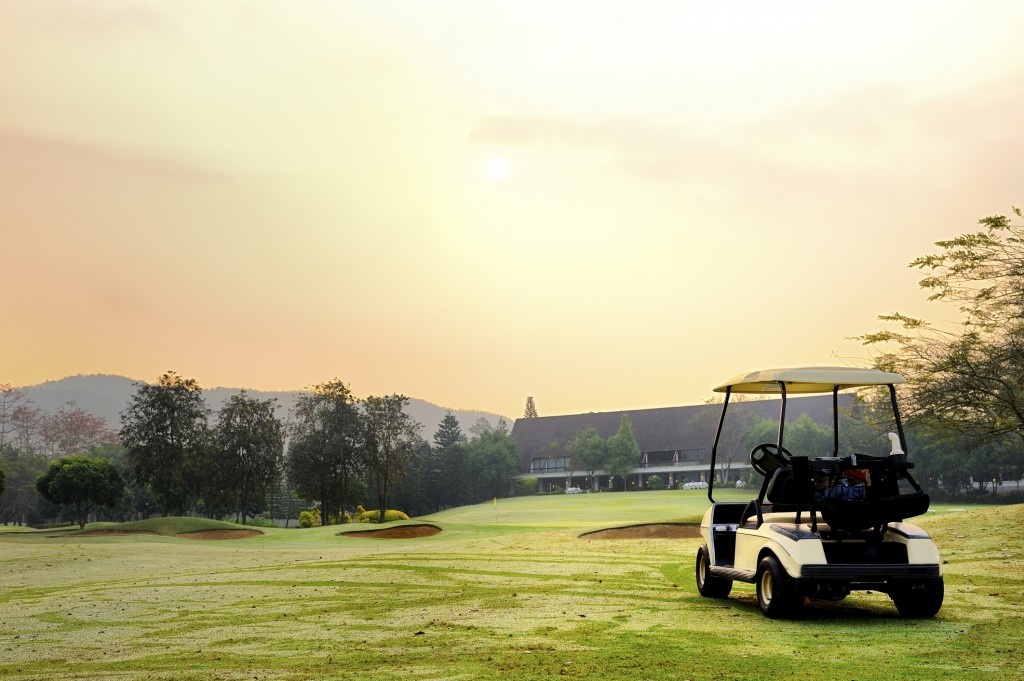 AUGUSTA, Georgia — Lining up his birdie putt on the ninth green at Augusta National, Jack Nicklaus suddenly stops. The crowd, one hole behind him, roars then roars again. Tom Kite and Seve Ballesteros both made eagles in the 1986 Masters.
After the crowd settles, Nicklaus turns to the gallery and says, "Why don't we see if we can make a little noise up here ourselves?"
He drains his putt, heads to the back nine and puts on one of the most famous charges in tournament history for his sixth green jacket.
The Masters really doesn't start until the back nine Sunday.
***
Yesterday, we saw the power of the back nine when 22-year-old Jordan Spieth experienced an epic meltdown. Dropping six strokes on the first three holes of the back nine, giving away the tournament to Danny Willett of England.
What's odd about Spieth's collapse on the back nine is that he knew better.
"In a news conference two days before the tournament's start, Jordan Spieth was asked to explain why it is often said that the Masters does not begin until Sunday on the back nine, which includes a stretch of tough holes, from the second shot on No. 11 through the tee shot on No. 13, known as the Amen Corner. Spieth said then: 'You feel like you're almost starting another round there. You're almost starting another tournament. You can feel the difference in momentum'."
And boy did the momentum shift. The question on everyone's mind today is what caused Spieth to crack?
While there's no way of knowing exactly what was going through Jordan Spieth's mind on Sunday, we can take a wild guess and say it probably had something to do with the 22 year old's confidence.
After all, most athletes underestimate just how important a healthy self image is for performance. Robert MacDonald aka Bobby Maximus talks a lot about self image and his struggles with it when he was a professional MMA fighter. He says:
Don't be a slave to your self image. Self image is the greatest psychological barrier we face and it controls our performance in the gym and in life. We will never outperform the self-image we have of ourselves. If you picture yourself a second place finisher, you'll never come first. 
I have been a victim of this myself. My first fight in the UFC I remember being in the locker room thinking "I don't belong here." I viewed myself as a kid from a small town of 2,000 people in Northern Canada, a kid who was bullied, a kid who was never part of the cool kids' club, a kid who was never very good at sports. And here I was about to fight a person with a much better record than me, more experience than me, in front of 20,000 people. I was terrified.
My self image won that day. I couldn't escape the limitations I had placed on myself. The truth was, I did belong. I had done the work, I had trained with some of the best coaches and training partners a person could ever ask for, I had been invited there to fight, and yet I still couldn't see it. I lost that fight. Badly. It's something I learned from.
A person will never outperform their image or the limitations they've put on themselves. I worked hard to remove those limitations and I'm still working hard to remove them today. It's an ongoing battle but because of the work I continually put in I've been successful more than I've failed. Start stripping yourself of your limitations and build yourself a self image you can be proud of. One that allows you to achieve your dreams. Once you do that barriers you once faced will be broken.
Self image is one of those fragile things in life. There's no faking a positive self image. If you are faking it and your self image is tested, that's when you start to see the cracks form. Luckily your self image isn't something that is fixed. There are plenty of ways you can change your self image.
ETR's Fitness and Nutrition Editor Missi Holt talked about this in a recent article in which she outlined 10 ways anyone can improve their self confidence.
The article resonates with readers because Missi is speaking from personal experience. She was a professional ballet dancer in college and during that time struggled with a negative self image that led to a severe eating disorder. Overcoming her own struggles with self image and self confidence, Missi turned her experience into a positive, and she now works with clients on nutrition therapy and fitness. A major part of her practice is teaching clients new ways to overcome self-confidence issues and help them build a positive self image.
Here are Missi's 10 easy tips to boost self confidence right now:
1.     Stand taller – Check this out, when you improve your posture and stand taller you actually signal your brain to release testosterone, which is linked with confidence and power. Testosterone boosts outlook, mood, energy and confidence. Dana Carney, a social psychologist at UC Berkeley, conducted a 2010 survey that revealed that power poses demonstrating confidence (regardless of whether or not a person actually feels confident) increase levels of testosterone and lower levels of cortisol — the stress hormone — in the brain. Carney says the power pose sends a signal to the brain, a neural impulse that turns into an actual, physiological response of self-assurance. Pretty cool, right?
2.     Focus on the outside – Say whaaaat?! Yes. I said it. This is such a simple and tangible thing you can do daily to get an immediate confidence boost. Shower, shave, get all gussied up and put on an outfit that makes you feel brilliant. Then just let your greatness radiate!
3.     Smile – Smiles are magical (and contagious!) They offer understanding, peace, hope, happiness, camaraderie, and joy. Physiologically they are as powerful as posture – triggering the release of your feel-good neurotransmitters dopamine, serotonin, and endorphins that reduce stress, boost mood and make you feel at ease with yourself and the world.
4.     Compliment another person – This one is so powerful that I devoted a specific article to it. Shifting the focus toward the loveliness around you rather than staying stuck in self-absorbed misery alters your internal energy and raises your external attractiveness to others — double whammy! No one has ever received a compliment and felt worse about themselves. And by boosting someone else's confidence you reap benefits as well. Again, it is a neural signaling thing… boy, our brains are smart!
5.     Move your body – Movement in general increases blood flow, oxygenation and muscle contraction. It gives you a sense of achievement, engagement, and enhanced wellbeing. All of these feelings are a result of endorphins released by exercise and movement. They are major mood boosters and pain relievers. It's hard to feel bad about yourself when you're riding high on the feel-good messages of brain chemicals.
6.     Squash negative thoughts & replace them with positive ones – Once you discover what you're truly telling yourself, it really becomes quite simple: "You are today where your thoughts have brought you; you will be tomorrow where your thoughts take you." —James Allen.
7.     Behave as if – Fake It 'Til You Make It is a common saying meant to help us avoid getting caught in a self-fulfilling prophecy related to our fears and insecurities. If we are what we believe we are, then we can be what we want to be… act with confidence by standing tall, smiling, speaking clearly, meeting another person in the eye, and behaving the way you envision yourself behaving as a confident person and you will call it into being.
8.     Live by your principles – What are the principles upon which your life, your beliefs, and your behaviors are built? If you don't know, you will feel directionless. Once you've identified what matters to you, begin to act on it in your daily life. When you are assured by the guidance of your convictions you will automatically exude confidence in all of your endeavors.
9.     Set a very small goal and achieve it within 4 days – There's a cool thing that happens when you set a really easy goal and achieve it within a short span of time. You gain confidence in your ability. Feeling capable is a mental cornerstone for confidence. When you feel qualified, adept, or proficient, your confidence is seriously heightened. Tack on a series of small wins over the course of time and you can ride high on a tidal wave of living with purpose and passion.
10.  Cultivate gratitude – One of my favorite, simple things to do to shift out of a bad mood or feeling of insecurity is to get thankful. We live incredibly privileged lives and no matter what is happening, there is much to be thankful for. It's true, "The miracle of gratitude is that it shifts your perception to such an extent that is changes the world you see." —Dr. Robert Holden
***
The Masters really doesn't start until the back nine Sunday.
Although Jordan Spieth learned this valuable lesson the hard way, he still pulled together an impressive tournament, finishing second and taking home $880,000 in prize money.
Steve Jobs once said, "Sometimes when you innovate, you make mistakes. It is best to admit them quickly, and get on with improving your other innovations."
If we've learned anything it is that Jordan Spieth is innovating golf for the next generation. Spieth's young, talented, and inspiring to watch and I can't wait to see how he bounces back after this.
Nick Papple
Managing Editor
The Daily Brief
#NOWYOUKNOW
Good Advice for Staying Calm and Being a Leader
From Mike Tuchen, CEO of Talend
"When you're driving and rain is pouring down, with the windshield wipers going, you can either watch the windshield wiper or you watch the road. Which is going to be more successful? That's a fabulous reminder about staying focused and calm."
Did someone forward you this email? Get your own copy of The Daily Brief sent straight to your inbox every weekday. Click here.
Check out what you missed in the last Daily Brief here.