Camping Food Recipe (You'll Want S'more!)
Your camping trip is about to get more exciting. And delicious.
Sure, you can bring hotdogs, the buns, and a can of beans. But really? Where's the creativity in that?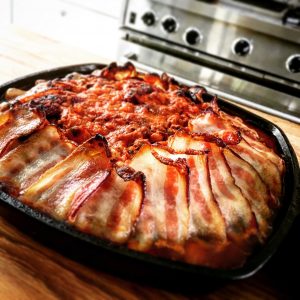 There is so much one can cook in the great outdoors. From coal-roasted sweet potatoes to grilled Mediterranean vegetables.
Making it a family activity is a good idea, too. I have a whole set of fun recipes that will keep all the family entertained in the absence of Wi-Fi.
Sometimes all you need is aluminum foil to wrap cool ingredients such as shrimp, chicken, or fish, with vegetables, a drizzle of olive oil and lemon juice. Just wrap the entire thing into an airtight pouch, throw it on the grill and wait a few minutes for the pouch to puff, and the ingredients to cook.
And other times, your best campfire friend is a good ol' skillet. You know how I rave about my cast-iron skillets. Sure, I do have a nice set of pricey All-Clad pots and pans, but to be honest, I prefer the simplicity, ease, and heat repartition of a skillet.
On family camping trips, a skillet is a useful tool. Eggs and sausage for breakfast then become a delicious luxury.
Pushing the envelope and getting a little more creative, there is a family recipe I want to reveal. You can wait until your next camping trip, or you can try it this weekend at home.
It's simple, easy, cheap, and satisfying. And fat-burning. Sure, there's a lot of bacon (4 slices per person). But bacon fat doesn't make you fat. Bacon is a friend, not a foe.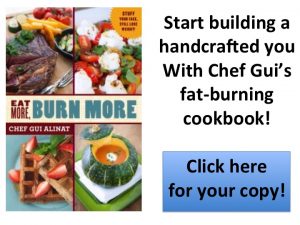 Plus, we're pairing it with fiber- and protein-rich pinto beans, as well as whole, meaty Portobello mushrooms. So go ahead and indulge without guilt.
Now, about the s'mores… Marshmallows are just plain sugar, really. So, I'm sorry, but I don't have a s'mores hack that I'd feel good about giving you. The only advice I can really give is moderation. Indulge in  just one s'more after dinner. I can also remind you that eating pastries and sweets is not necessarily problematic as long as it's done at the end of your healthy, fat-burning meal, without overdoing it. Enjoy!

Campfire Bacon and Beans Casserole
Prep time: 10 minutes   |  Cooking time: 30 minutes   |  Yield: 6 servings
Ingredients: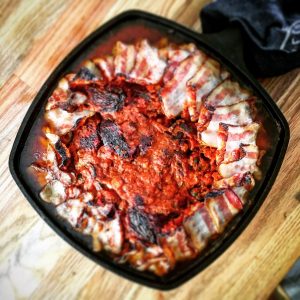 24 slices of bacon
2 15-oz. cans of pinto beans, drained and rinsed
1 24-fl. oz. jar of tomato sauce
4 whole Portobello mushrooms
1 small can (7 oz.) of whole chipotle peppers in adobo sauce (optional)
Salt and pepper to taste
Preparation:
In a cast-iron skillet, arrange the bacon slices on the bottom, fanning them around the skillet and making sure they come out of the skillet. We'll fold the slices over the beans later.
Pour half of the pinto beans on top of the bacon, and half of the tomato sauce. Place 4 mushroom caps on top of the beans. Pour the remaining beans and tomato sauce on top of the mushrooms. Salt and pepper to taste.
Add the chipotle peppers and spread them out evenly. Fold the bacon over and bake at 400 degrees F for about 30 minutes, or until the bacon is golden brown and crisp. If you are camping, put the skillet on the fire and let it cook for 30 minutes, or until the bacon is golden brown and crisp. Let it cool for 15 minutes before serving.