TT Transformation Winner Tells All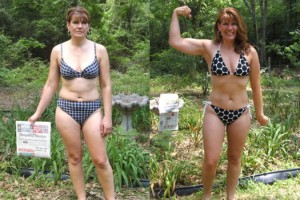 Transformation contest winner, Melody Pipkin, who lost 4 lbs and 5 inches of fat in just 5 weeks, sat down with me recently to share her winning transformation contest formula.
Like many of you currently struggling with weight, Melody was unhappy with the way she looked and things weren't getting better any time soon.  So, let's take a look at what life was like for Melody before and after TT, and what life-changing nutritional tips she recommends to burn fat fast.
**************************
CB: Tell us a bit about your background…what types of workouts had you done in the past, what types of results, and how important are short workouts for your busy life?
MJP: I started working out at home years ago to get back in shape after the birth of my youngest son. I used workout videos -my first one was a step workout Keli Roberts & Cher – lol. Would be very dated now -but it was a really good workout and did get my lower body back in shape.
I found I enjoyed the muscle toning workouts that used weights the best. Even though I enjoyed working out, I was NOT consistent with it. I would workout for a while and get in shape – then stop- getting distracted with other pursuits.
Most recently I started reading about the kettlebell- I purchased one for my birthday along with Pavel's book- "Enter the Kettlebell". I enjoyed learning swings and Turkish GetUps and I was intrigued by all the bodyweight workouts I was reading about that people were putting together….
….but I knew I needed some sort of STRUCTURED program to follow if I was going to work out consistently after being a stay-at-home-mom for years. At 40, I decided to go back to school and join the workforce so my time is now VERY limited in the mornings -which IS my workout time.
Most of my workout videos were 60-90 minutes and I just did NOT have that much time anymore.
CB: What was "the last straw" that made you decide to take control with Turbulence Training?
MJP: I was very unhappy with how I looked. I was at my biggest size/weight ever and headed to the next size up if I did not make some changes -quick.
Also, and really more significant than how I looked- was the fact that I felt bad almost all of the time -fatigued, blood sugar issues, aches & pains… Everybody would say- "Your over 40 expect it." But I knew being overweight & not exercising or eating correctly had something to do with it.
I also knew enough to know a diet pill or a crash diet were not the answers for me. I knew the changes I needed to make had to come through DIET and EXERCISE – I just did not know HOW to pull it all together by myself….
…I found a lot of plans out there but I needed the RIGHT plan to follow. I tried a few of the new workout videos out there- but just could not get into them. I saw that some people were designing their own workout routines on paper- but I really did not have the time, organizational skills, or knowledge to do that.
I received a free workout from TT and really enjoyed it. TT just made sense to me.
I LIKED…
…that it combined body weight exercises, weights, and kettlebell moves.
I LIKED…
…that it is all very organized for me.
I LIKED…
…that the workouts were short and to the point.
I LOVED…
….the short cardio intervals.
And of course the previous contestants before & after pictures were pretty convincing that the program would work.
CB: What kind of nutrition changes did you make that seemed to have the most impact on your transformation? What nutrition advice do you have for TT readers?

MJP: The change that has made the biggest impact for me personally as far as my nutrition is PLANNING.
I knew a lot of the 'right things to eat' -I just was not doing it. I am not a planner by nature at all -but through reading & listening to podcasts & watching videos in the TT programs I have leaned to plan ahead.
Make a menu
Shop ahead of time
Prepare my food ahead of time so I have something to take with me when I go out
Those three little steps have made a world of difference in my eating.
The BIGGEST impact as far as what foods I am eating has been to cut out white sugar and processed food as much as possible. I am trying to build my diet around lean protein, lots of vegetables and fruits, and whole grains.
Also it has really helped me to JOURNAL what I am eating and as much as I hate to admit it -count my calories. I do not like to count calories, but I am for now, and it has helped me to get a good idea of the amounts I should be eating. I have been using Fitday.
*******************
Stay tuned for part 2 tomorrow where Melody shares what her essential ingredients were that motivated her to reach fast and incredible results.
If you would like to see other inspiring TT body transformation success stories, then head over to