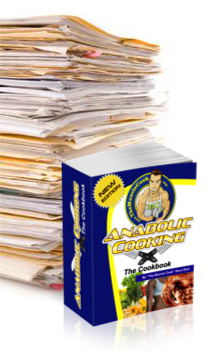 Before you shut down for a few days, take a few minutes and answer these 3  questions from my friend, Frank McKinney…
1) What has changed since the year started?
2) Where did you "exceed your known definition of greatness"?
3) Where did you fall short?
Jot down your answers and keep them handy, because I'll be back after Christmas with 3 follow-up questions, and the PROVEN (and free) solution to helping you finally achieve your dreams.
Get ready to start your free transformation on Thursday, Dec. 26th.
Until then, remember this (and get your free gifts below):
"The very best thing you can do for the whole world is to make the most of yourself." – Wallace Wattles
And in case you missed this yesterday, here's my Christmas gift for you!
I've teamed up with Santa Vince, Big Mike the Elf, and Dave "The Red-Nosed Muscle Cook" Ruel to bring you the best fitness Christmas presents in the world. Get your free giftz here:
48 hours of FREE fitness gifts
But hurry, this special free gift offer is only up until midnight, tonight!
It's just one way we're giving back to our loyal readers and Facebook fans that support us all year round. Thank you so much for being part of the Turbulence Training community and 10 Million Transformation Mission.
Go fill your fitness stocking with those great gifts. And if you need to, just copy and paste this link into your browser:
– http://www.yourfreefitnessgifts.com/christmas-gifts
Merry Christmas from all of us here at Turbulence Training,
Craig Ballantyne, CTT
Certified Turbulence Trainer
PS – Give yourself the gift of ______
…Happiness this holiday season.
I was just reading research from a book called, "The Happiness Advantage", and here's what you need to know:
The #1 characteristic of happiest people is the strength of their social relationships. The more social support you have, the happier you are. If you can do one thing to be happier, it's spending time with friends.
Ain't that the truth?
Remember to implement that simple strategy for holiday happiness this week and next, and then keep it going all year round in 2014.
At Turbulence Training, we're happy to be part of your social support for everything, from losing belly fat to being happier.
We'll always be here for you and to answer any questions you have.
Alright, time to go for a walk in the snow with ol' Bally the Dog, the furriest little ball of happiness that I know!
Merry Christmas!
Craig
"There is nothing on this earth more to be prized than true friendship." – Thomas Aquinas