#1 Factor for Fat Loss Success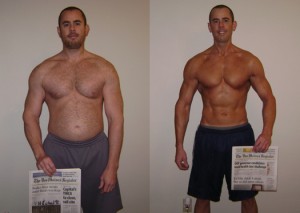 The 7th Turbulence Training Transformation Contest winners will be up this week…this was the most consistent "class" ever and truly amazing.
The 8th TT Contest starts  on May 3rd…stay tuned for details! To find out more tips…
Click here to listen to this week's fat burning coaching call
We also had a powerful quote on the TT Facebook  Fanpage this week…
"You will never find time for anything. If you want time you must make it."
Charles Buxton
Now I have no idea who Charles Buxton is, but his quote got the biggest response out of any quote I have ever posted on Facebook…that's how much of a valued resource your time is…so don't waste it, and don't expect to "find any extra time" to do the things you want…you have to MAKE time.
And now, our fat loss tips.
Monday – April 19th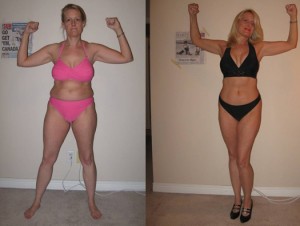 Transformation Tip of the Week:
The #1 factor for fat loss transformation success that 3 different experts agreed on in the last week is…
Taking before photos.
So even if you don't want to enter a contest, I highly recommend that you still take before photos, just for your success and personal documentation. You'll regret it if you don't.
I also opened up the Turbulence Training Fanpage to user feedback on the most important changes you made to lose fat, and we got some interesting replies. In total, there were 94 responses, and here were some of the most popular and interesting…
Intervals – 15 people said this was the biggest factor in helping them lose fat
Heavy weights – 6
Food Journal – 11
Nutrition/whole foods – 4
Cutting sugars, eliminating soda and sugary desserts – 4
Eating only when hungry/stopped idle snacking – 3
Meal planning – 1
Adding fruit or veggie to every snack – 1
Eating more – 1
Food scale – 1
Exercise journal – 2
Consistency/committed/mindset – 6
Small goals/specific goals – 6
Hiring a personal trainer – 7
Cool stuff…let me know the #1 factor in your success…just post it in the comments below.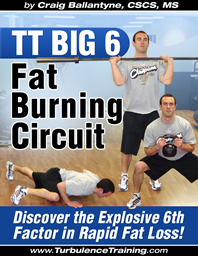 Now for this week's fat burning workout…
The Big 6 Beginner Circuit Workout A
Here's the general outline of a Big 6 Workout
A Jump
A Squat
A Push
A Pull
A Single Leg Move
A Total Body Abs Exercise
Beginner Workout A goes like this…
Jumping Jacks – 20 reps (1-0-1)
Lying Hip Extension – 15 reps (2-0-1)
Pushup – 10 reps (3-0-1)
Beginner Inverted Row – 8 reps (2-0-1)
Stability Ball Leg Curl – 12 reps (2-0-1)
Mountain Climber – 8 reps per side (1-0-1)
Rest 1-2 minutes before repeating the circuit 2 more times.
Then finish with Interval Workout A
Tuesday
Get 30 minutes of fun activity – now grab a Green Tea and let's do this week's research review.
Reference:
J Strength Cond Res. 2010 Mar 17. The Metabolic Costs of Reciprocal Supersets vs. Traditional Resistance Exercise in Young Recreationally Active Adults. Kelleher AR, Hackney KJ, Fairchild TJ, Keslacy S, Ploutz-Snyder LL. Musculoskeletal and Human Performance Laboratories, Department of Exercise Science, Syracuse University, Syracuse, New York.
This study compared the calorie burning benefits of a traditional resistance training (TRAD) workout against a superset (SUPERs) workout.
10 young men did both workouts separated by a week…and did 6 exercises for 4 sets each.
(NOTE: The Turbulence Training workouts have been based on Supersets for over 10 years!)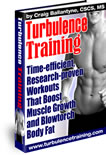 The results showed that calorie burning (during and after exercise) was greater EE was significantly greater with the Superset workout.
The researchers concluded that adding supersets will help you burn more calories and get more results in LESS workout time. So once again, Turbulence Training is proven SUPERIOR by science! (And only 10-12 years after I started training people this way…)
Wednesday
Big 6 Beginner Circuit Workout B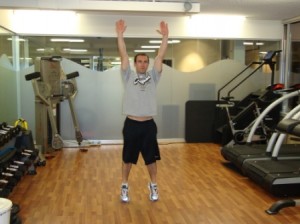 Seal Jumps – 20 reps (1-0-1)
Total Body Extension – 10 reps (1-0-1) ===>
Close-Grip Pushup – 10 reps (2-0-1)
DB Row – 8 reps per side (2-0-1)
1-Leg Lying Hip Extension – 12 reps per side (2-0-1)
Stability Ball Mini-Rollout – 8 reps (1-0-1)
Rest 1-2 minutes before repeating the circuit 2 more times.
Thursday
Do 30 minutes of fun activity…and remember how last week I said there were 5 reasons that yoga helps you lose weight?
Well, this week I was reading the May issue of Men's Health magazine and they quoted a 2009 study from the Journal of the American Dietetic Association showing that Yoga increases mindful eating…just like I mentioned last week.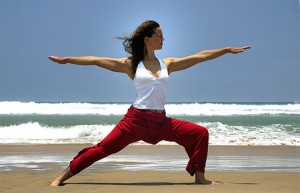 Also, the May 2010 MH listed this chart of average pushups a man can do…it's kind of weak in my opinion…we all need to do better and bring those averages up…
Age 20-29 = 25 pushups on average
Age 30-39= 19 pushups
Age 40-49 = 15 pushups
Age 50-59 = 11 pushups
Friday
Last workout of the week…let's be strong!
Big 6 Circuit Beginner Workout C
Jump Rope – 40 reps (1-0-1)
Prisoner Squat – 10 reps (2-0-1)
Eccentric Pushup or DB Chest Press – 8 reps (5-0-1)
DB Chest-Supported Row – 12 reps (2-0-1)
DB Step-up – 10 reps per side (2-0-1)
Stability Ball Plank – 15 seconds
Rest 1-2 minutes before repeating the circuit 2 more times.
Social Support Saturday!
30 minutes of fun activity…and then this politically incorrect kick-butt mind-set tip to get you fired up…
"Want a better life? Go after the cause of your problem. Don't mask the problem. Don't dull the pain. Instead, feel the pain and ask yourself what is really causing it. Then attack the cause."
Larry Winget
I like this guy Winget…he's got some great books.

Sunday – Plan, Shop & Prepare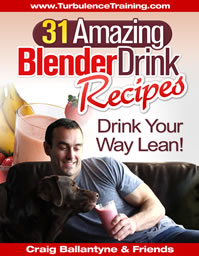 Do your 30 minutes activity and plan, shop, & prepare…according to Dr. Dr. Chris Mohr's #1 diet tip…
"Eat 90 percent of your carbohydrate calories from fruits and vegetables."
That goes well with my new Simple Nutrition & 31 Blender Drink Recipes plan.
Next week!
TT Workout – Big 6 Circuit Advanced
Research Review – The best training to fight against dreaded metabolic syndrome
Nutrition – Thrive Diet book
The TRUTH about body fat measurements