Video games aren't just for kids anymore. From its humble beginnings with games like "Pong" and "Pac Man," the industry has grown up. The average game player is now 34 years old, according to the Entertainment Software Association.
And it is a very, very big business.
2009 annual revenues in the U.S. alone were $10.9 billion!
One standout company has been dubbed "a mansion in a trailer park" by one analyst. And it could hand members of the Liberty Street League who are following my recommendations in "The World's Least Expensive Portfolio" gains of 100% by February 18th.
Claim Your FREE Copy of Mark Ford's New Book…Today!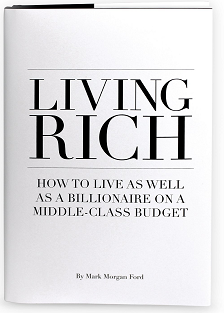 Living Rich: How to Live as Well as a Billionaire on a Middle-Class Budget.
Here's Why:
During the fourth quarter of last year, this company had one "major" product launch, and brought in non-GAAP net revenues of $2.5 billion.
It resulted in non-GAAP earnings per share of $0.48.
This beat analyst expectations by 7 cents per share, and the stock rocketed up 10% in one day.
Fast-forward to this quarter.
For the first time in 12 years, the company has two "major" launches in the same quarter.
One sold an estimated $900 million worth of video games in November alone.
Last week, the second major launch went on sale. It sold over 3.2 million copies in the first 24 hours!
Two blockbusters in one quarter.
But analysts are only expecting the company to earn the same $0.48 per share it did during the fourth quarter of last year.
I believe that the company will earn more — and that we can make 100% on our money when the stock pops after the earnings announcement.
There are four reasons for my confidence.
One reason is the incredible sales of the company's titles during the holiday season. Its two blockbuster titles this year should easily outsell its one blockbuster title from last year, resulting in higher revenues.
The second reason is that the company has a history of beating expectations. It has beat expectations for three of the last four quarters, usually by $0.03 per share.
The company beat earnings estimates by $0.07 during the fourth quarter of last year, and with a huge fourth quarter this year, I expect it to once again beat expectations handily.
The third reason is the analyst expectations themselves. Not just for earnings, but for share price. Of the 22 analysts following the company, the median target price for the stock is $15 per share.
That means analysts expect the share price to jump 25% in the next year. Any bit of good news will send it higher, and next quarter's earnings announcement should do just that.
The last reason I think the stock will skyrocket is because it is approaching its 52-week high. It is already well above its 21-day, 50-day, and 200-day moving averages. To break above the psychological 52-week high, too, gives this stock tremendous momentum.
I believe the company's huge fourth quarter won't be digested by Wall Street until after the holiday shopping season ends and preliminary sales figures come in. Once Wall Street grasps the magnitude of the company's sales, they will begin piling into the stock and drive up the price.
Last week, I told my readers how to get involved now and position themselves for huge gains with this stock.
To gain access to this recommendation, you must be a member of the Liberty Street League, which publishes The World's Least Expensive Portfolio. The portfolio has recommended picks to my readers that are showing gains of 94%, 72%, and 71% in a few short months. Membership is only $49, and could be paid for by your very first investment!
[Ed. Note: Christian created
The World's Least Expensive Portfolio
in the
Liberty Street League
newsletter to help his readers quickly double or triple their money. Each month, he recommends a stock that gives them the opportunity to invest less than $100 and reap a huge payoff. (Buying every stock in the current portfolio costs less than $800.)]