Super Easy Enchiladas Burn Belly Flab Fast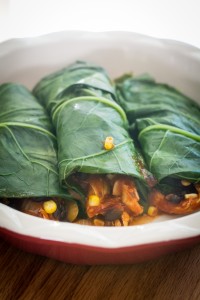 Enchiladas are so good. Cheesy goodness with a note of spicy.
Technically, they're easy to make, right? Just roll some tortilla around a filling of meat, cheese, beans, vegetables, or a combination. Smother with a chili sauce, top with cheese, and bake.
Really, it only takes a few minutes to make. That's the good part.
The bad part is that white tortillas are fattening, and store-bought chili sauce is full of nasty stuff like modified food starch, MSG, sugar, and high-fructose corn syrup. Not good.
So let's make our own, shall we? And Eat More to Burn More in the meantime.
Now, all tortillas are not created equal. You can probably get 100% whole-grain tortillas in your store (such as Ezekiel's Sprouted Whole Grain Tortillas). These provide enough fiber, and when combined with fat-burning ingredients like black beans or vegetables, make for a healthy enchilada.
If you want to take it one step further, you can replace the tortilla altogether using collard greens leaves. Then the dish becomes a smart fat-burning powerhouse that your entire family will love.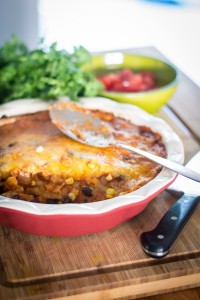 The key to my fat-burning recipe is the sauce in which the chicken simmers. It is made with corn, chilies, tomatoes, black beans and delicious spices.
If you decide to use collard greens instead of tortillas, make sure you steam them until they are bright green and pliable.
Then it's time to stuff the tortillas/greens with the shredded chicken filling.
And bake until the Mexican cheese is melted.
This recipe is a no-brainer. Everybody loves enchiladas. Making them fat burning to help you lose weight is a breeze and nobody will suspect it, because this enchilada is so delicious.
Click here for the recipe card.
Helping you lose a ton of weight,