Over the last decade [Craig Ballantyne] has coached and advised many of the top fitness information marketers on the planet. These are information marketers making seven figures currently today online. These are names like Joel Marion, Vince DelMonte, Isabel De Los Rios and a slew of others.
What's the most awesome thing about Craig Ballantyne is during our mastermind sessions he's been there and done that, and he helps our clients get their first sale and their 5,000th sale. There's nobody else who's got that kind of experience in the industry other than Craig Ballantyne that I know of, that I would trust with my business.
–Bedros Keuilian
President, Fit Body Boot Camp
Claim Your FREE Copy of Mark Ford's New Book…Today!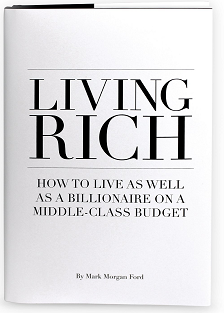 Living Rich: How to Live as Well as a Billionaire on a Middle-Class Budget.