Confessions of a Financial Insider Reveal How Anyone In The Next 60 Days Can …
Grow Rich The "Lazy" Investor's Way
Beat the market by 50% by doing nothing more than one simple trade a month that takes only 10 minutes …
and without risking a penny
---
Dear Friend,
In a recent interview, someone asked Warren Buffett how he finds companies to invest in.
Mr. Buffett smiled and said that he does three things:
He reads. He thinks. He talks to people.
How many average Main Street investors have the time, the patience and the knowledge to do this?
You're right: very, very few.
Let's face it: most people know they're not Warren Buffet and never will be.
I say GREAT.
I've found another way to grow rich, simply and easily. It doesn't take a lot of time. You don't need a lot of money to get started. It doesn't require a lot of work. Best of all, the returns you'll have the chance to pocket will shock you.
I hope you won't get insulted, but I call it the "lazy" investor's way to wealth.
The lazy investor spends about 10 minutes a month executing one trade.
In return for his "hard" work, he walks away with higher returns — sometimes as much as 724% more than individual stocks. (I'll show you specifically in just a second.)
You see, he's living THE DREAM: he's getting steadily richer month by month AND he has more time to indulge himself. Play golf. Dine out. Hang with his family. Have fun.
That's what life is all about, isn't it? What's the point of being prosperous if you don't have the time to enjoy the spoils of your success?
I'm here to tell you that YOU can live the lazy investor's dream: pile up profits without busting your hump or sucking up your time.
How do I know lazy investors are making these riches? Because I showed them the secret myself.
Your investments should do the hard work,
NOT YOU!
My name is Chris Johnson. You might have seen me on CNBC's Squawk Box, Closing Bell with Maria Bartiromo, Bloomberg TV or the Fox News Channel. Or maybe you've read my insights in Barron's, The Los Angeles Times, The Washington Post, The Wall Street Journal, USA Today or other major publications.
These news outlets keep coming back to me because I know what I'm talking about. I've spent over 20 years in the financial trenches helping Main Street investors make money in almost every kind of market.
I've seen a lot of ways to get rich, but nothing compares to the lazy investor's way. I've used this secret to beat the S&P 500 by 186% this year.
What I'm about to reveal isn't for everybody. If your idea of fun is settling down with an annual report instead of skiing in Vail or white-water rafting down the Colorado River, then STOP READING NOW.
If you want greater wealth but don't have unlimited amounts of time, energy or expertise to acquire it … this is for you.
Are you too busy chasing the markets
to make any real money?
So what exactly is the lazy investor's secret to real wealth? I'll reveal the whole story, but you've got to promise me that you won't pre-judge what I tell you or jump to conclusions before you get ALL the facts.
Promise? Okay. You'll see why I consider these investment vehicles the perfect way to beat the market with very modest risk. I'm talking about exchange traded funds or ETFs.
I've been actively engaged with ETFs for more than a decade. The number of ETFs is exploding and here's why:
ETFs typically charge lower fees than mutual funds, so more money stays in your pocket.
ETFs carry comparatively less risk than individual stocks because your investment is spread out.
ETFs are easy to buy, manage and sell, giving you more time to do the things you enjoy doing.
Best of all, ETFs can give you higher returns than individual stocks or mutual funds. See for yourself
If you had invested in the Rydex Banking Mutual Fund, you could have earned 9.5%.
But if you switched to the Regional Bank HOLDRs Trust ETF, you would have bagged 90% higher returns.
If you had invested in Johnson and Johnson during 2006, you could have made a 12.4% return.
But you would have made 27% MORE if you had invested in the Pharmaceutical HOLDRs Trust during that same period.
Halliburton's returns in 2006 were pathetic.
But investors who put their money in an ETF called Oil Services HOLDRs Trust earned returns 724% greater.
Let's see …
Lower fees, less risk, less time, higher returns … maybe lazy investors are onto something after all?
Now you might be thinking that with all these terrific advantages,
picking ETFs is a no-brainer, that you can invest in practically any exchange traded fund and you'll come out on top.
Nothing could be further from the truth! And here's why:
More than 500 ETFs are currently available. Another 300 are getting ready to launch. That's over 800 funds to choose from.
How do you decide which ETF is right for you?
It's impossible to evaluate them by yourself. Risky, too: you could easily overlook a profitable ETF or get stuck in a losing fund. Either way, the result is the same: you lose.
That's not all. Unfortunately, many investors have fallen into the trap of buying a hot ETF when the price is high and selling at a loss. Or they'll buy an exchange traded fund without really understanding what the fund is all about.
Don't panic — help is here! In a minute, I'll show you how to avoid these pitfalls and rake in considerable gains in ETFs with my help.
Seize ultra-lucrative ETFs in the U.S.
and around the world in the next 60 days
Why is the number of ETFs surging? If you said because they're moneymakers, go to the head of the class.
People have discovered that ETFs are veritable cash cows. Fund sponsors are creating new ETFs like there's no tomorrow, slicing and dicing the market to squeeze every last nickel from narrow niches.
For example, would it surprise you to learn that there are 39 ETFs devoted just to healthcare stocks?
There's an ETF for practically every sector and asset class: high-dividend stocks, bonds, precious metals, international markets, foreign currencies, growth and value stocks — you name it.
You can buy and sell ETFs whenever you want, just like stock. They can be bought on margin, shorted and have a stop-loss.
As I'll explain in just a second, you can begin to build your profits with ETFs in the next 60 days without risking one thin dime.
What's YOUR dream lifestyle? LIVE IT when you
follow these few easy steps …
Investors love my plan because it's simple, takes only a few minutes and works.
My objective is to find one ETF a month which I believe will beat the S&P 500 by 50%. Considering that I've already whipped it this year by 186%, I think you'll agree that's a damn good gain.
Why don't I chase "higher-paying" plays with "bigger" payoffs? Because that's not investing, that's gambling. Besides, I've found it's more lucrative to make double-digit gains in ETFs month after month than to "speculate" on "hot" flyers that "could" turn a profit in the distant future.
For example, in February 2007 I recommended the Utilities Select Sector SPDR (XLU) exchange traded fund. Within 3 months, those who invested could have raked in a 10.4% return on that position … compared to a 5.7% return on the S&P 500 during that same period.
Our readers who invested a modest $5,000 in this recommendation could have pocketed $520 in profits … compared to only $286 in profits with the S&P. They had the chance to make almost TWICE AS MUCH MONEY.
But you don't have to start with $5,000 a month. Or $3,000. Or anything near that. You can begin with whatever you're comfortable with. Obviously the more you invest, the more you could make but it's not necessary — not like many other "wealth-building" services that expose your money to huge risk.
Financial security for the rest of your life
How much is a lifelong income worth to you? Because that's precisely what ETFs can provide. Lifelong income means FREEDOM … to do the things you want to do, instead of what you have to do. There's always a low-cost, fast-rising ETF somewhere, so you're not dependent on risky individual stocks or "bubble" sectors to build wealth.
What kind of value would you place on that peace of mind?
If you believe that beating the market with ETFs is for you, you probably have questions and concerns like these ..
"I don't want a lot of risk. I want to sleep easy at night."
— Jon H., Delray Beach, FL
Well, every investment carries some risk. As a knowledgeable investor, you know there's no such thing as a 100% risk-free opportunity.
But historically … ETFs have proven to be much less risky than individual stocks. Publicly-traded companies are subject to any number of risk factors that could adversely affect their value: poor earnings reports, analyst downgrades, regulatory trouble … not to mention volatile global trends like acts of terrorism or competition from red-hot overseas economies.
But ETFs sharply minimize your risk by investing over a whole sector. Even if one stock takes a beating, you can still make money on the strength of the overall sector.
You can sell ETFs whenever you like, just like individual stocks. You're not locked in, the way you are with mutual funds. I've used the amazing flexibility of ETFs to rack up fantastic gains for almost 10 years.
"Chris, I'm sick and tired of paying high fees.
How can ETFs save me money?"
— Richard L., Baltimore, MD
Oh, you'll save money right off the bat…
ETFs COST FAR LESS than many mutual funds. For example:
According to Morningstar, the typical ETF today charges about 0.36%… whereas a mutual fund could charge up to 8.5% in sales loads. That's 24 times more!
Suppose you decided to sell a mutual fund that was worth $50,000. At 8.5%, you'd have to fork over $4,250 out of your gains.
Ouch!
But with an ETF that charges only .36%, you'd pay only $180! Compare that to the mutual fund and it's clear: you'd keep more than $4,000 in YOUR pocket and away from greedy brokers and self-serving fund managers.
You'll save on your taxes, too, because there's much less portfolio turnover compared to actively managed funds.
"I've followed other programs in the past that promise
to make me a fortune and they never do."
— Charlie D., Atlanta, GA
You're quite right. I've been in this business for more than 20 years. I've seen literally hundreds of "experts" make outrageous claims that turn out to be smoke and mirrors in the end.
That won't happen to you here. Because this program gets proven, measurable results for all to see. I've been using it all year and I've already beaten the S&P 500 by 186%.
This is very important: I can't promise that every recommendation will be a bona fide homerun. But I DO promise that we'll have way more singles, doubles and triples than strike-outs. Since ETFs cost less overall than stocks or mutual funds, you're already ahead of the game.
"What makes your strategy successful?"
— Mark S., Dallas, TX
Suppose you could figure out which way a stock or sector should move before it goes up or down. Wouldn't that give you a tremendous edge?
You bet it would. Well, after years of researching and testing, I've come up with a strategy that does just that. The key is understanding and evaluating investor behavior.
Instead of acting rationally, investors do just the opposite. They'll throw money at a hot sector at a time when they should be getting out … and pull out of a sector when they should be getting in.
That works to our advantage. By analyzing investor behavior, we can predict where a stock or sector is headed BEFORE it reaches an extreme.
And since ETFs are a quick and efficient way to get in and out of the market, they're perfect for timing our moves to maximize profit potential.
"What's your investing style?"
— Bill B., Arlington, VA
I use a core/satellite approach. Fund managers and institutional investors have used it for years to rake in millions in profits, and the French government recently adopted it to manage their state pension fund.
It combines the best of active and passive investing. The way it works is simple: I invest the bulk or "core" of the portfolio in a safe, passively managed index ETF that tracks the market. Then I add some higher risk/higher reward "satellite" plays that are actively managed.
By combining these two investing styles along with filters I've developed over the years, I achieve the right balance of risk and reward.
I like the core/satellite strategy when I invest with ETFs because it provides greater flexibility, comparatively lower costs and a cheap, easy way to switch from one asset allocation to another.
"What do I need to begin?"
— Andy G., Charlotte, NC
About 10 minutes a month and the capacity to follow my clear recommendations. Then you're free to spend more time with your family or on the golf course or traveling the world.
Remember: these investments do the hard work, not you.
As you'll see in just a minute, I'll actually GIVE YOU the next two LIVE plays absolutely FREE. You won't pay a single penny!
The key to unlocking ETF profits starts here …
There's talk that the total number of ETFs could reach 1,000 by the end of the year.
If you're Warren Buffett, you have the resources to wade through this avalanche and pick the most promising.
But as we already know, 99% of investors aren't Warren Buffett. But now with my help, you can find money-making exchange traded funds with ETF Edge — the only investing research service whose mission is to find ETFs that can beat the S&P 500 by at least 50% or your money back.
What makes ETF Edge better than competing ETF resources? What specific advantages will you receive?
Let me tell you…
You get ONE specially-chosen
exchange traded fund every month
Only one. Instead of "services" that recommend a bunch of ETFs in the hope that one comes up a winner, ETF Edge searches with laser-like precision for extraordinary investment opportunities.
I spend hundreds of hours and exhaustive researching over 500 available ETFs. Most of them don't meet my strict criteria. That's why I recommend only one fund a month. But the ones that do HIT BIG. The results speak for themselves: investors who followed my selections have had the chance to beat the S&P by 186%.
You can manage your investments in
about 10 minutes a month
Once a month, you'll get ETF Edge delivered electronically with my newest ETF selection. All my analysis, research and evaluation will be boiled down into a quick-reading bulletin for your convenience. Investing has never been so easy: just follow my simple instructions, execute the trade — and you're finished. I do the work for you. I designed ETF Edge for people who want an uncluttered way to take advantage of the market that's fast, simple and reliable.
Get V.I.P. access to the world's hottest sectors
To further minimize risk and maximize profit potential, I select ETFs from a diversified range of sectors: natural resources, pharmaceuticals, energy, banking and finance, real estate, precious metals — wherever the best profit opportunities are.
I promise you potential market-beating investments once a month — every month — for as long as you subscribe to the service.
By now, you should see that ETF Edge is unique, not like an ordinary "trading" service.
Well, just like ETF Edge itself is unique, so is my offer to you.
If there was ever an easy "unfair"
investment opportunity, this is it!
That's why I wrote to you today. And that's why I'm pulling out all the stops to make trying ETF Edge the easiest thing in the world.
I want to prove to you — beyond a shadow of a doubt — that ETF Edge is your gateway to a lifelong income stream.
So to make your decision a no-brainer, I've put together a Special Introductory Offer just for this occasion.
I've arranged for you to get a TWO-MONTH Trial Membership to ETF Edge absolutely risk-free! That's right — if you accept my invitation now, you can try ETF Edge for TWO FULL MONTHS without risking a penny.
That means you'll have COMPLETE and UNLIMITED access to my exchange traded fund service without risking a penny. You'll get TWO COMPLETE RESEARCH REPORTS with my very next two ETF recommendations without risking a penny.
You'll get the names, ticker symbols, my quick-reading analysis, clear investing instructions that won't take more than 10 minutes — all of it — without risking a penny.
But wait … I'm only getting warmed up.
I'm so convinced that ETFs can be your path to profits … so thrilled that we've beaten the S&P 500 by 186% this year so far … so excited for you to join us as we rake in our next double-digit and even triple-digit gains that leave the S&P in the dust …
… that I want to give you every possible opportunity to maximize your money-making potential in the next six months.
And the best way for me to do that is to arm you with a FULL and COMPLETE SET of RED-HOT WEALTH-BUILDERS that have the power to jack up your gains as soon as you get your hands on them!
Accept a One-Year Membership to ETF Edge and you'll get …

Red-Hot Wealth-Builder #1:
How To Ride Sector Waves To Big Profits
There are all sorts of ways to analyze the market. Most everyone is aware of them. But there's an under-the-radar indicator that gives us a powerful edge and maximizes our profit potential time after time. It works in almost every kind of market and hands us handsome gains while others lose their shirts. You'll discover this little-known "profit compass" — and how you can apply it to every investment vehicle and every trading strategy — in this eye-opening report. (Value: $75)
Red-Hot Wealth-Builder #2: The Best ETF To Own This Year
There are several exchange traded funds I'm itching to tell you about — but I've discovered one ETF in particular that every investor should own. In fact, even if you eventually decide ETFs aren't for you, you'd be foolish to pass up this opportunity. I'm absolutely convinced you'll rake in a mouth-watering return that will make your friends and family absolutely green with envy! This is the one … and I'll reveal its name and everything else you need to know in this confidential report. (Value: $75)
That's $150 worth of investing know-how … absolutely FREE.
But your extra value is just beginning.
Let me explain…
As a connoisseur of investment opportunities, you know that most "services" have the gall to charge obscene prices. It's not uncommon to pay $200 … $500 … sometimes even $1,000 a year in subscription fees.
Outrageous!
But you won't pay anything like that for ETF Edge. Ordinarily, your one-year membership would go for a bargain rate of $149. But if you join up today, you'll get:
12 Complete Quick-Action Reports
12 new ETFs with the potential to whip the S&P 500 by 50%
Special Report: How To Ride Sector Waves To Big Profits
Special Report: The Best ETF To Own This Month
All for only $99!
That's pocket change — just 27 cents a day! Compare that to a cup of coffee at Starbuck's that could cost 12 times more!
Enroll for one year and you immediately save yourself $50 off the already low price!
Now if you're the kind of bargain hound who's always on the lookout for Extra Value, then a Two-Year Membership is right up your alley.
The regular price is $298 … but if you sign up today, you'll get the entire Two-Year Membership for HALF PRICE — only $149. In addition to How To Ride Sector Waves To Big Profits and The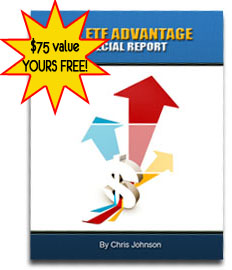 Best ETF To Own This Year , you'll also get TWO NEW RED-HOT WEALTH-BUILDERS absolutely FREE:
Red-Hot Wealth-Builder #3:
The ETF Advantage
In this short email, I've only scratched the surface about the advantages and benefits that exchange traded funds offer. Get the full story in my comprehensive report. Unlike the dime-a-dozen guides in the bookstore, this report was written by someone who's been tracking and trading ETFs since before they went mainstream. It's a perfect addition to your investing library. (Value: $75)
Red-Hot Wealth-Builder #4: The Hidden Raging Profit ETF
I've discovered a practically "unknown" ETF with huge upside potential. Somehow it managed to get "lost" in the crush of new issues — which means that only a handful of astute market-watchers are even aware of it. I'm convinced that anyone who invests now will be smiling all the way to the bank sometime in the next 3 months. This is THE ETF everyone will be writing about in the coming weeks, but you can have it now in this red-hot wealth-builder alert. (Value: $75)
Okay, help me add up the benefits of a Two-Year Membership:
24 Quick-Action Reports with super clear instructions
24 New ETFs specially recommended to whip the S&P
Deluxe Membership Savings: HALF OFF the Regular Price
Red-Hot Wealth-Builder #1: How To Ride Sector Waves To Big Profits
Red-Hot Wealth-Builder #2: The Best ETF To Own This Month
Red-Hot Wealth-Builder #3: The ETF Advantage
Red-Hot Wealth-Builder #4: The Hidden Raging Profit ETF
$300 Worth of Extra Bonus Tools
____________________________________________________________
Discounted Two-Year Member Rate: $149
Do this now: Go to Here or call toll-free 1-800-465-1416 to activate your membership and to print out your Red-Hot Wealth-Builders in the next 3 minutes.
Accept a Trial Membership. Put my next two plays to the test. If you don't think they have the potential to beat the market by 50%, just let me know within 60 days and I'll reimburse your membership fee completely.
The risk is completely mine. It won't cost you anything, except a small amount of time to evaluate ETF Edge and see if it's right for you.
That's not asking too much, is it?
But your protection doesn't stop there. In the unlikely event that the ETF Edge model portfolio fails to beat the market by at least 50% anytime after the first 60 days, you can cancel and get a cheerful refund on the balance of your membership.
To begin your FREE Trial Membership and get my next two red-hot ETF recommendations, click here or call toll-free 1-800-465-1416 today.
Your new dream life is calling you…
Do you want to go blind reading company reports or do you want more time to have fun in your life?
In the short time we've been together, you've seen how …
… exchange traded funds provide diversification, lower risk and greater profit potential than individual stocks or mutual funds.
… my strategy of investing in just ONE carefully chosen ETF every month has beaten the S&P 500 index on average by 186% in 2007.
… you have the potential to make bundles of money in about 10 minutes a month.
… you can get access to my next two market-beating ETFs without risk.
With terms this good, my publisher would kill me if I offered them indefinitely. So before the window closes, please click here now.
I guarantee: some investor will exploit this edge. I hope it's you.
Sincerely,
Chris Johnson
ETF Edge
P.S.:When you add it up … a new exchange traded fund every month, returns that kick the S&P into the gutter, a complete toolbox of extra value wealth-builders, two full months of investing know-how at my expense … I honestly can't think of a better opportunity to grow richer than ETF Edge. The decision now rests with you.