We were the odd couple. I slept the 10-4 shift. He – if sleeping at all – slept the 5am to 9am shift. One evening the kids lit a huge bonfire, and he stayed out drinking with them until 8 in the morning.
And then, after a 30 minute nap, he taught the students an incredible 90 minutes of advanced copywriting.
So grew the legend of Clifford Mee.
Cliff was one of the guest instructors at the BlackSmith Camp for Liberty and Entrepreneurship last summer in Lithuania.
Each year I travel to a remote countryside resort to join my friend Simon Black and 50 college-aged kids from over 31 countries. We teach them how to "live free in an unfree world", as Harry Browne once wrote.
It's a life-changing event.
Each year Simon pulls together an all-star cast of instructors to go along with your editor, a perennial attendee. Back in 2012, there was a guy named Sam, an anti-government maverick who stripped down to his underwear in the San Diego airport to protest the TSA. You can imagine that didn't end well.
Last year the star attraction was Cliff. He is a master storyteller and 7-figure entrepreneur living the Internet Lifestyle on a beautiful tropical island in Thailand. He funds his world travels, his "hobby" restaurant on the island, and his fancy clothes obsession with his copywriting skills.
Although I'm not at all interested in what he sells (Hypnosis products), I've remained on his prospect email list for months because of his ability to write incredible and engaging stories, like the one I'm about to share with you.
Read and learn. Analyze how he keeps you engaged. Pay attention to how he connects his story with a moral and his product. It's pure copywriting wisdom. Enjoy. – Craig Ballantyne
***
The "Yoko Ono" Hypnosis Secret
David Geffen's story serves as an important reminder for getting excellent results in hypnosis.
Geffen was born in Brooklyn. But he wanted to live where the action and opportunity was at the time, so when he was 18 he moved to LA. The trouble was, he wasn't any good at anything, and while in LA he got fired from every single job he landed.
He was talking to a struggling actor about this. The actor said "You can't do anything? You should be an agent, they don't do anything".
It was said tongue-in-cheek.
But…
Geffen took him seriously. So he went and got a job at the William Morris agency. He worked in the mailroom on the lowest salary. That's where his body worked. His mind worked elsewhere.
See all the time Geffen was delivering the office mail he was watching what agents did. He noticed what they were doing was trying to sign established acts.  This made no sense to Geffen.
Established acts were more expensive, and competition to sign them was greater. To "mailbag Geffen" it made more sense to find the acts that had potential but were NOT yet established.
So get this:
While still working in the mailroom, at night (when all the other agents were at home with their families), Geffen would go to clubs and bars and find talent before any agent knew about them.
He'd then sign talented but unknown singers.
And it wasn't long before he moved out of the mailroom and worked as a talent agent.  It also wasn't long before he became the most successful agent at William Morris.
He wasn't just good.
He was exceptional.
So exceptional, in fact…
He opened his own record label "Asylum Records", by the time he was 27. The artists he made famous on that label included:
Neil Young, Crosby Stills and Nash, The Eagles, Joni Mitchell, Jackson Browne, Tom Waits, Elton John, Judee Sill. In 1972 he sold the company, and eventually left. Five years later he opened Geffen Records.
This time with artists like: Donna Summer, Cher, Aerosmith, Guns 'n' Roses, Nirvana, The Stone Roses.
But he really wanted to sign John Lennon. The problem was so did everyone else. So Geffen did what no other agent was doing. The other labels were talking directly to John Lennon.
Geffen figured that Yoko Ono must feel excluded. So he didn't talk to Lennon, he talked to Yoko Ono. Geffen influenced Yoko, and then Yoko influenced Lennon. John Lennon signed to Geffen's label and released the Double Fantasy album, his masterpiece.
Now, what has all that got to do with hypnosis?
Easy:
If you want to get superior results to other hypnotists you have to go to where other hypnotists are not going – AKA: Different places in the unconscious mind.
The analogy:
John Lennon = where most every hypnotist goes to in the unconscious mind.
Yoko Ono = the "touchstone place" in the unconscious mind that triggers extraordinary hypnosis results.
So how do you get to and influence the "Yoko Ono part" of the unconscious mind?
That's easy too…
Cliff – Street Hypnosis
*****
Legendary.
Just like the BlackSmith Camp.
Here's our 2013 class portrait, although somehow I got cut out! Rest assured, I'll be back this year…and so will the Legend.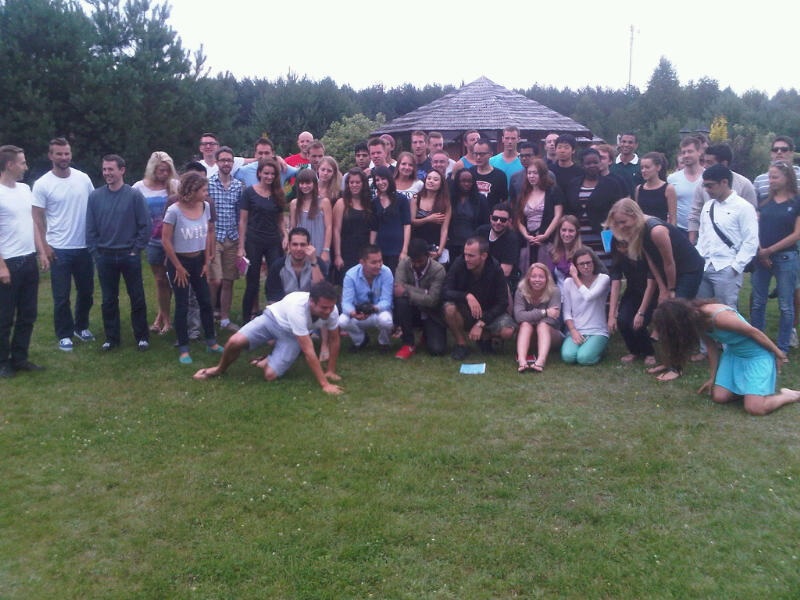 The kids at the BlackSmith Camp
Cliff and I are returning to speak again at the 5th annual BlackSmith Camp in Lithuania in August. This is the LAST time I'll remind you about this opportunity. It's free for those under 25 – and if you prove that you are worthy. Go here to find out how to apply
The legend of Cliff will grow,
Craig Ballantyne
"The fastest, easiest and most direct way to success is to model it. Don't try to recreate the wheel. Instead, surround yourself with people who are already achieving what you want. Get coaching, buy into mastermind groups, and model success." – Bedros Keuilian
Over 25? Then you need to attend a 1-day Mastermind with Bedros and myself. Contact Joan@Keuilian.com for spot.