Intense Fat Loss Christmas Workout Finisher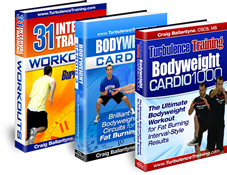 Hey, are you Craig?", a voice asked.
It was this past Saturday, right around noon, and I was standing in front of a Qdoba restaurant in Ann Arbor, Michigan waiting for a friend. That's when I was randomly spotted by 24-7 Fat Loss customer, Mike Bouren.
Funny enough, just that morning he had followed along with one of my 24-7 fat loss workout videos, and he and his wife couldn't believe it when they ran into me later that afternoon.
(Mike recognized me because of my infamous black glasses.)
It was great to hear from someone that had just "worked out with me" in the morning on video. What a cool feeling. Hope to "run into" more TT users on my travels.
But what was I doing in Michigan?
Well, on Saturday we filmed another great day of the upcoming TT  Home Workout Revolution videos in Lapeer, Michigan with Certified TT Trainers, Brian Kalakay and Mike Whitfield.
(By the way, if you ever get a chance to visit Brian's gym, Xtreme Results, in Lapeer, you MUST go for it. His gym is awesome…a true fitness lover's playground with all the cool toys, including a tire for flipping.)
Until those workouts are ready, I have a funny Christmas Workout Finisher for you.
Do this in place of Interval Training, and make sure to "sing the workout" to the tune of the 12 days of Christmas:
Do these exercises with the "Day of Christmas" representing the number of reps for each exercise (i.e. you'll do 12 burpees, then without rest move to 11 jumping jacks, and so on down the list). If you're fresh or advanced, do 2-3 rounds.
12 Burpees burping
11 Jumping jacks jumping
10 Total body extensions
9 Decline pushups
8 Bodyweight rows
7 X-body mountain climbers (per side)
6 Switch lunges per leg
5 Spiderman pushups (per side? – YES, per side!)
4 Jumping lunges
3 Pullups or Chinups
2 More freaking burpees
And 1 thirty-second wall squat hold!
Hope you enjoyed that…maybe I should come up with more?
I'll see what I can do.
In the meantime, I have another Christmas special for you.
It's our annual "Burn Fat at Home" sale and you're getting five amazing fat burning workouts – including the Mega-Hit "15 Minute Metabolic Finishers" workout on sale here:
Burn Fat at Home with Metabolic Workouts & Intervals
For the first time ever, you can get the complete Holiday Workout System – featuring "31 Interval Training Workouts", the NO-Equipment "Bodyweight Cardio 3 Workouts", and "TT Bodyweight Cardio 1000″…
…PLUS today's #1 fat burning workout – "TT MRT" and it's shorter sidekick, "TT 15-Minute Finishers"  – for over 85% off the regular price for the next 3 days ONLY.
PLUS – I've added a SPECIAL SURPRISE BONUS workout that you'll get on the download page.
But shhhhh, it's a surprise!
Speed Up Your Metabolism & Lose Weight at Home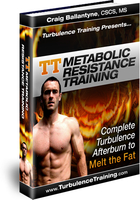 Tomorrow: I'll be back with the strangest Customs Office incident I've ever had crossing the border from Canada to the USA.
The people in line behind me must have thought I was getting busted for a crime!
But I wasn't – haha – instead, I was learning something and teaching at the same time.
Full story tomorrow,
Craig Ballantyne, CTT
Certified Turbulence Trainer
PS – Get a head start on burning Holiday Fat here…
…with the:
Complete At Home Fat Burning Workout Kit <= sale ends soon
Including the infamous 15-minute MRT Finishers.