FREE Entry for Your Chance to Win 20 Best Selling Books!
(Normally $300+ on Amazon)
Here is YOUR CHANCE to WIN Craig Ballantyne's favorite books. Just enter your email below to get started.

This giveaway includes 20 books, written by some of the most successful entrepreneurs, professors, and marketers. See the full list of books below.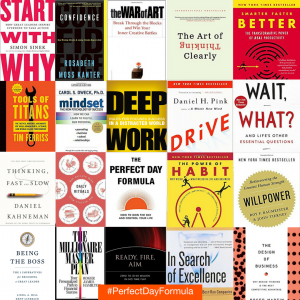 The Perfect Day Formula - Craig Ballantyne
The Millionaire Master Plan - Rodger James Hamilton
Daily Rituals - Mason Currey
Being the Boss: The 3 Imperatives for Becoming a Great Leader - Linda Hill and Kent Lineback
Willpower - Roy F. Baumeister and John Tierney
In Search of Excellence - Thomas J. Peters and Robert H. Waterman Jr.
Confidence - Rosabeth Moss Kanter
The Design of Business: Why Design Thinking is the Next Competitive Advantage - Roger Martin
Ready, Fire, Aim - Michael Masterson
The Power of Habit: Why We Do What We Do in Life and Business - Charles Duhigg
The War of Art: Break Through the Blocks and Win Your Inner Creative Battles - Steven Pressfield
Tools of Titans: The Tactics, Routines, and Habits of Billionaires, Icons, and World-Class Performers - Timothy Ferriss
Thinking Fast and Slow - Daniel Kahneman
Smarter Faster Better: The Transformative Power of Real Productivity - Charles Duhigg
Mindset: The New Psychology of Success - Carol S. Dweck
Wait, What?: And Life's other Essential Questions - James E. Ryan
Start with Why: How Great Leaders Inspire Everyone to Take Action - Simon Sinek
The Art of Thinking Clearly - Rolf Dobelli
Drive: The Surprising Truth About What Motivates Us - Daniel H. Pink
Deep Work: Rules for Focused Success in a Distracted World - Cal Newport