Bodyweight Exercise Challenge Workouts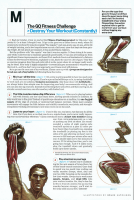 Funny thing happened last week…a  few people emailed me and said there was picture of me in the April issue of GQ.
I had no idea what they were talking about…so I bought a copy. The comparison – as you can see – is striking.
Interesting stuff…and if you want to know how this turns out, make sure you join the TT Fanpage for updates:
=> http://www.facebook.com/TurbulenceTrainingFanpage
In this week's call, we'll zip into spring with a new bootcamp workout, my
latest workout from Men's Health magazine, and new fat loss research. Oh,
and by the way, Happy Easter to everyone – enjoy some reward chocolate
today, but after that, you don't really need it – so get it out of the house.
Click here to listen to the call…
And now, our fat loss tips.
Monday – April 5th
Transformation Tip of the Week:
"To live an extraordinary life, you must resist an ordinary approach."
Frank McKinney
CB says, "This applies to fat loss too. You can't eat a "normal" diet that consists of junk and soda and live a "normal" life of 6 hours of TV per day if you want the body of your dreams. You have to change, get out of your comfort zone, and be who you really want and deserve to be."
Stay strong!
Now for this week's workout: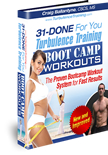 TT Bootcamp Workout #13 – TT 30-Minute Bootcamp 2K10
Warm-up (20 seconds per exercise) – 5 minutes
•     Jumping Jacks
•     Prisoner Squat
•     Off-Set Pushup
•     Duck Under
•     Arm Crosses
•     Rest 1 minute and repeat 1 more time.
Water Break – 1 minute
TT Strength Circuit (20 seconds per exercise) – 5 minutes
•     Vertical Jump or 1-Leg Deadlift (20 seconds per side)
•     Spiderman Climb Pushup or T-Pushup
•     Optional: Pull-up, Inverted Row, or DB Row
•     Rest 1 minute and then repeat 1 more time.
Water Break – 1 minute
TT Depletion Circuit (20 seconds per exercise) – 10 minutes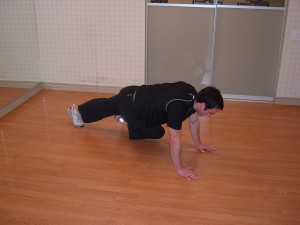 •     Bodyweight Squat
•     Decline Pushup or Close-Grip Pushup
•     Reverse Lunge (20 seconds per side)
•     Cross-Body Mountain Climber
•     1-Leg RDL (20 seconds per side)
•     Plank (60 seconds)
•     Run in Place
•     Rest 1 minute and repeat 1-2 more times.
Cool-down, Stretching & Water Break – 7 minutes
Tuesday
•     Get 30 minutes of fun activity – now grab a Green Tea and let's do
this week's research review.
Our research friends in Iceland show us the 1 drink that is associated with
dropping out of a weight loss program…
Reference:
Ann Nutr Metab. 2010 Mar 11;56(3):212-216. Predictors of Dropping Out in a
Weight Loss Intervention Trial. Gunnarsdóttir I, Sigurgeirsdóttir GK,
Thórsdóttir I. Unit for Nutrition Research, Landspítali University Hospital
and University of Iceland, Reykjavík, Iceland.
114 subjects went on a diet – 30% fewer calories (about 600 calories) for 8
weeks.
Not everyone finished the study…and the researchers found that the folks who
dropped out drank 35% more soft drinks & 44% more diet soft drinks – prior
to the study.
It seems like heavy soft drink users just can't stick to a diet program.
That's SUPER DUPER IMPORTANT for you if you want to lose weight.
Wednesday
Check out the new April 2010 Men's Health magazine (p. 47)  for my article on 4 upper body exercises that also work your abs:
Chinup+kneeup
1-arm standing overhead press
Renegade row
Lying triceps extension
Thursday
•     Do 30 minutes of fun activity…and consider this tip to cut calories:
Put a mirror on your fridge
Research shows this results in a 32% decrease in junk food intake!
Friday
More tips from Men's Health April 2010…
3 minute pushup test from strength coach, Martin Rooney
(from Page 46, April 2010 Men's Health)
Rules:
1) Rest whenever you want – but the clock keeps running.
2) Perfect form…all the way to the top and all the way down to 2 inches above the floor.
3) Pace yourself however you'd like…Rooney says to take a 15-second break once you start to slow down after your first burst. Then take longer breaks as you get more tired. Do NOT go to total fatigue.
His Scoring:
<55 reps = below average
55-74=ave
75-99 = good
100-110 = excellent
>111=extraordinary
Cool, huh?
I hit 114 when I tried it out.
Social Support Saturday!
30 minutes of fun activity…with a dog?
Why not? Research shows that dogs decrease stress, increase self-esteem, decrease depression, & decrease the risk of dying after a MI.
(Quoting page 199 of the book, "59 seconds".)
Sunday – Plan, Shop & Prepare
30 minutes activity and plan, shop, & prepare.
Today I'm going to try and convince you (again!) that nuts are okay for your diet.
According to research that I found summarized on MSN.com (so I'll admit, this is secondary info), "dieters who ate a few ounces of almonds a day reduced their waistlines by about 6 1/2 inches in 24 weeks—nearly 50 percent more than those who ate the same number of calories without the nuts".
How is that possible when nuts have so much fat?
Well, it's probably because of the fiber in the nuts…but it could also be something to do with the protein and healthy fats in nuts.
Regardless, eating nuts will probably help you eat fewer calories overall, even though they have a lot of calories.
Try 1 ounce of almonds, an apple, and a green tea for mid-morning and mid-afternoon snacks instead of donuts, muffins, or processed junk.
Here are the calorie amounts in one ounce of nuts:
•     Almonds: 20-24 whole are about 1 ounce, 160 calories
•     Brazil nuts: 6-8, 190 calories
•     Cashews: 16-18, 160 calories
•     Hazelnuts: 18-20, 180 calories
•     Macadamias: 10-12, 200 calories
•     Peanuts: 28, 170 calories
•     Pecans: 18-20 halves, 200 calories
•     Pine nuts: 150-157, 160 calories
•     Pistachios: 45-47, 160 calories
•     Walnuts: 14 halves, 190 calories
Next week!

•     TT Workout – The Fat Burning Power of Kettlebell Workouts
•     Research Review – Social Support & Fat Loss
•     Nutrition – Tips to help you cut calories without starving
•     Support – The truth about how your friends might make you fat
•     Why yoga works for fat loss
It's going to be another great call,
Craig Ballantyne, CSCS, MS
Author, TT Bootcamps