6 BBQ Recipes for a Fun, Yummy & Healthy Weekend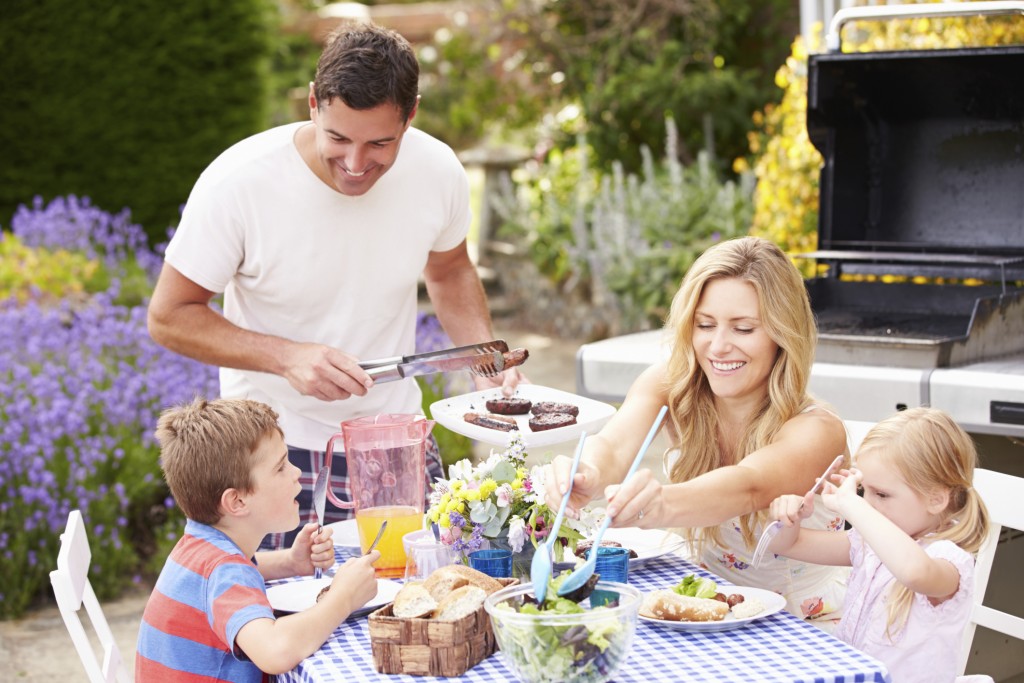 Grilling out on a sunny holiday weekend is a favorite pastime around the world.
When it involves good food with great friends and family, BBQs abound.
If you work just as hard in the gym and kitchen to keep your body fit, don't sabotage your diligent efforts by choosing poor quality foods that destroy your health and energy — not to mention your waistline.
Celebrate, instead, with my Super Healthy and Delicious recipes that will satisfy your taste buds plus keep you right in line with your fitness goals:
Avocado, Mango, & Cilantro Bison Burger Makes:          4 servings
¼ lb. bison patty (1 lb. package makes 4 burgers)
Ezekiel buns, Gluten Free buns or Butter lettuce cups
Sea salt
Garlic powder
Onion powder
Black pepper
Form the burger patty and season to taste.
Grill on med high heat for 3-4 minutes each side then remove from grill & cover with foil so it can rest & redistribute juices.
Avocado, Mango, & Cilantro Salsa Makes:           4 servings
1 avocado chopped
1 mango chopped
4 T. fresh salsa
1 T. chopped fresh cilantro
Mix all ingredients in a small bowl.
Serve on top of bison burger or wrapped in lettuce cups
 >>>Free 6 week meal plan. Download it today!
Roasted Veggie Fries Makes:           8 servings
1 lb. fresh French green beans, trimmed if needed
1 medium sweet potato, washed, sliced into strips (equal in size & length to beans)
1 large zucchini, washed, sliced into strips (equal in size & length to beans)
1 T. olive oil
1 tsp. sea salt
½ tsp. garlic powder
½ tsp. black pepper
Preheat oven to 425.
Mix oil, salt, garlic powder, and black pepper.
Place veggies in a large glass, baking dish coated with cooking spray.
Drizzle seasoned oil mixture over veggies & toss to coat.
Roast 10 minutes then toss veggies.
Roast another 5-10 minutes or until desired degree of doneness.
Colorful Kale Slaw Makes:           4 servings
4 cups Fresh Kale leaves sliced into thin strips
1 cup Chopped red cabbage
1 cup Grated golden beet
1 cup Grated carrot
1 cup Thinly sliced red bell pepper
½ cup Thinly sliced celery
½ cup raw pumpkin seeds or sunflower seeds
Prepare salad ingredients in a large bowl. Dress with Cumin-Lime Dressing just before serving.
Top 12 foods to OVEREAT to lose weight
Cumin-Lime Dressing: Makes:           4 servings
4 tbsp. fresh lime juice
2 tbsp. agave/honey
6-8 tbsp. olive oil
1 tsp. ground cumin
Sea salt to taste
*make this a creamy dressing by adding 1-2 T. hummus, or to desired consistency
Blend all ingredients until well incorporated.
Shot in the Dark Makes:           4 servings
1 can coconut cream (or full fat coconut milk)
4 T. Dutch cacao powder (I use Droste)
Sea salt to taste, usually just a sprinkle
Tiny bit of water or coconut milk for consistency
Blend all ingredients in a blender. Separate into 4 small bowls or ramekins and chill in the fridge for at least 20 minutes.
You CAN enjoy food and community while living a healthy lifestyle that supports your fitness goals.
Stay true to your hunger and satiety cues, choose whole foods prepared wisely, and eat slowly so you can savor every juicy bite of your BBQ Burger!
P.S. Let me know how these recipes turned out. Click here to share your experience, new recipe renditions, and overall joy for food!
Written By Missi Holt