Delicious Chili Recipe & Why Spicy Foods Burn Fat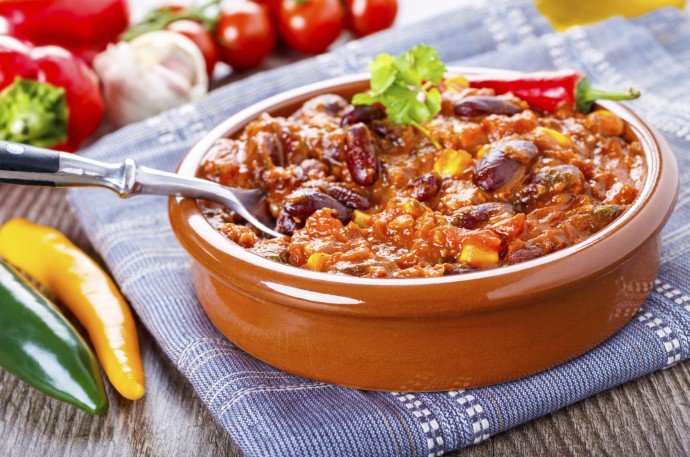 Chef Gui here, with even MORE good news about eating good food to lose more weight. But first, let me ask you: how hot do you like your food?
I'm sorry, excuse my French, but by "hot" I mean "spicy." You see, when I'm excited I lose my English, and today I just came across a recent scientific study from the University of Wyoming proving that eating spicy food burns fat.
Researchers at the University of Wyoming fed capsaicin supplements (the heat factor in chili peppers) to mice. The result? Even on a fattening diet and a tiny amount of capsaicin, the mice's metabolism revved up and no weight was gained.
I'm loving this, because truth be told, I like my food hot — and the spicier the better. Although I remember one evening I took my wife Carissa on a date to a local restaurant in our hometown of Dunedin Forida: I ordered the red curry, but the chef must have disregarded the recipe because when the dish came in, it was the spiciest dish I had ever tasted in my life. And trust me, I have tasted some spicy foods in many exotic countries. This was no joke.
[sc:mealplan-free ]
But then Carissa challenged me to eat it all. I never refuse a good bet, so I agonized over each bite while she was giggling and making fun of me. My mouth was on fire, I was sweating like a pig, and even felt dizzy (don't try this at home!).
Little did I know I was also burning fat by doing nothing more than eating. That's a plus in my Eat More, Burn More book! 🙂
You see, there are literally hundreds of chili peppers with various degrees of heat. All of them stem from America, and only got imported into Asia by Portuguese navigators about a century after Columbus. In fact, speaking of Columbus, he's apparently the one who called them "peppers," because they were as spicy as the white and black pepper (a completely different plant altogether) that he knew.
And spicy they are. In your grocery store, you probably have access to jalapeños, serranos, and the super-spicy habanero. If you live in the Carolinas, try to find the Carolina Reaper (the spiciest pepper in the world), but be careful. You need to know how to handle that baby.
To handle chili peppers, make sure you wear plastic gloves, remove the seeds (they are the spiciest), and wipe your cutting board and knife clean after use (the heat transmits easily between surfaces). And when it comes time to add them to your food, the only rule is: have fun and experiment. 
[sc:EMBM_12foods ]
There's a couple of awesome spicy recipes in Eat More, Burn More. So go ahead, add a bit of spice to your diet and feel good eating more of these: Huevos Rancheros (page 30), Green Eggs Mexicana (page 35), Southwestern Egg Rolls (page 81), Black Kale Chili (page 123), or Sweet and Pork Thai Curry (page 139).
I'm also including a bonus recipe (see below) with a mild to intense heat (you choose). Let me also remind you about my other bonus mini-cookbook: 5-minute meals under $5. Who can pass on that?
Award-Winning Pork Shoulder Chili Recipe
Ingredients:
1 tbsp ground cumin
1 ½ tsps ground coriander
4 lbs. pork shoulder
1 large can of red kidney beans
1 tbsp extra-virgin olive oil
1 large onion, chopped
6 large garlic cloves, minced
4 to 8 fresh green jalapeños (depending on how much heat you like), stemmed, seeded and chopped
2 tbsps ancho chile powder
1 tbsp dried oregano
1 bottle Negra Modelo beer
1 28-oz. can diced tomatoes
1 oz. unsweetened Mexican chocolate
3 whole dried large red chiles, such as New Mexico or guajillo
Chopped fresh cilantro, for serving
Salt to taste
Preparation:
Roughly cut pork shoulder into 1/2-inch cubes. Heat oil in a Dutch oven. Working in batches to avoid crowding the pan, brown the meat, turning occasionally, until crusty. Adjust heat to prevent scorching. As it is cooked, remove the meat to drain on paper towels.
In the same pot, add onion, garlic, jalapeños, chile powder, cumin-coriander powder and oregano. Cook, stirring, until onion has softened, 5 to 10 minutes. Add meat, beer, tomatoes, kidney beans, chocolate, whole dried chiles and 1 quart water. Bring to a gentle simmer and transfer to a slow-cooker on low for 2 days. Taste and add salt if necessary.
Let cool and refrigerate. The chili tastes best one or two days after it is made, and you can remove the solidified fat for a really lean chili. To serve, slowly reheat over low heat (NO BOILING!!!) and serve in bowls, sprinkled with cilantro.
[sc:MacNCheese ] [sc:MagicChocoCake ] [sc:EMBMfromRECIPES ]