3 Versions for Delicious Fat-Burning Chili!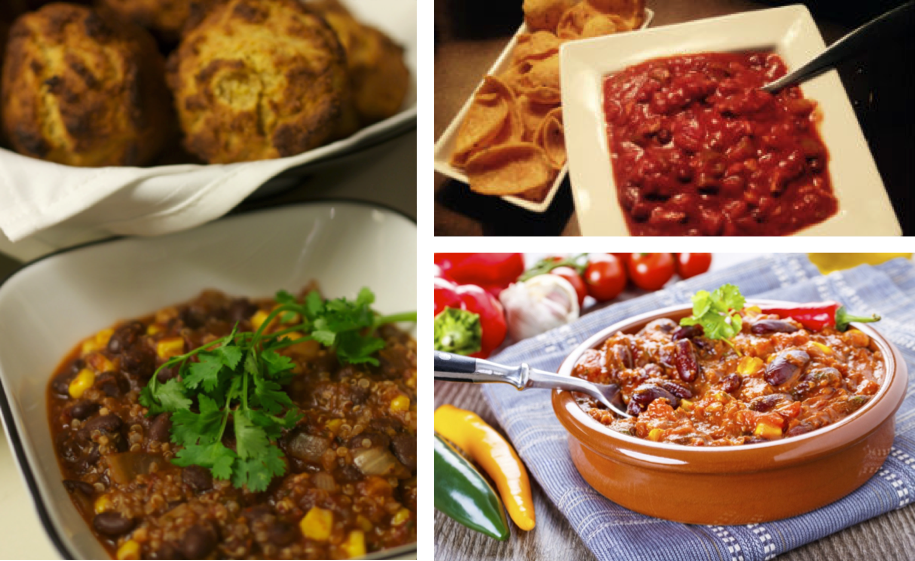 Ah, chili… Here in Colorado, it's that time of year when a piping hot bowl of spicy goodness is hard to pass up! It just seems to hit the spot.
And no matter if you're vegetarian or a meat eater, if you like it spicy or milder, if you prefer a variety of beans or love to load up on the veggies there's one thing that makes chili so special:
Chili Powder.
Yep. This one ingredient is the unifying force for chili recipes everywhere.
And it just so happens that this one little ingredient plays a mighty role in helping you achieve your fat-burning goals — even while noshing on the comforting heartiness of a steaming bowl of your favorite chili.
Chili Powder comes from finely ground, dried chili peppers, which are loaded with a chemical called capsaicin giving them their various levels of spiciness.
[sc:mealplan-free ]
Capsaicin is a nutritionist's dream because of all its amazing properties — for example, capsaicin:
Lowers blood sugar
Supports heart health and boosts circulation
Aids intestinal and digestive issues (caution if you have ulcers)
Is anti-inflammatory, anti-bacterial, and known pain-reliever
Is a thermogenic compound that boosts metabolic rate and stimulates the fat-burning process!
We love it when the delicious food we eat also burns fat and supports our health!
Here are 3 mouth-watering recipes to help you do just that — one is loaded with lean ground turkey and 5 kinds of beans (holy fiber!), the next is bursting with vegetarian friendly super foods like black beans and quinoa, and the third is a special treat from none other than Chef Gui — the brains behind the Eat More, Burn More Cookbook!
Happy, Hearty Eating!
Prep time: 30 minutes | Cook time: 30 minutes | Yield: 10-12 servings
Ingredients:
1 package lean ground turkey
1 yellow onion, chopped
3-4 stalks celery, chopped
2-3 cloves garlic, chopped
1 tsp sea salt (or more for desired taste)
1 tsp black pepper
1 tbsp chili powder
1 tsp ground cumin
1 can chopped green chilies
1-2 cans un-drained chili beans (look for Gluten Free version if need)
1 large can diced tomatoes
2 large cans tomato sauce
1-2 Tablespoons Worcestershire sauce
Tabasco to taste (5-8 drops)
1 can each, drained and rinsed:

– Black beans
– Kidney beans
– Pinto beans
– Yellow hominy
Preparation:
Sauté first 7 ingredients in a large pot until turkey is browned on the outside.
Add chili powder, cumin, and green chilies stirring well to combine.
Add all beans and hominy and thoroughly combine.
Add diced tomatoes, tomato sauce, Worcestershire sauce, and Tabasco. Stir until well incorporated.
Bring to a boil. Reduce heat and simmer at least 30 minutes — stir occasionally to avoid sticking on the bottom.
 [sc:EMBM_12foods ]
Prep time: 30 minutes | Cook time: 4-6 hours | Yield: 10-12 servings
Ingredients:
1 cup quinoa, rinsed
2 cans low sodium black beans, drained and rinsed
1 sweet onion, chopped
3 tbsps garlic, minced
1 tbsps jalapeño, chopped
½ cup cilantro, chopped
1 medium zucchini, chopped
1 large can crushed tomatoes
1 can sweet corn
1 small can blended chipotle peppers in adobo
2 tbsp dried lime and chili spice blend
1 chopped avocado
Sour cream
Shredded cheese
Preparation:
Place the crushed tomatoes, peppers in adobo, onion, garlic, jalapeño, cilantro, zucchini, corn, black beans, and spice blend in a crock pot on low.
Simmer for 4-6 hours.
About 20 minutes before serving, simmer the rinsed quinoa in 2 cups of water.
Add the quinoa to the chili and cook for 5 more minutes
Serve in bowls with cheese, avocado, and a dollop of sour cream
Optional: Serve with cornbread or whole wheat crackers on the side.
Award-Winning Pork Shoulder Chili Recipe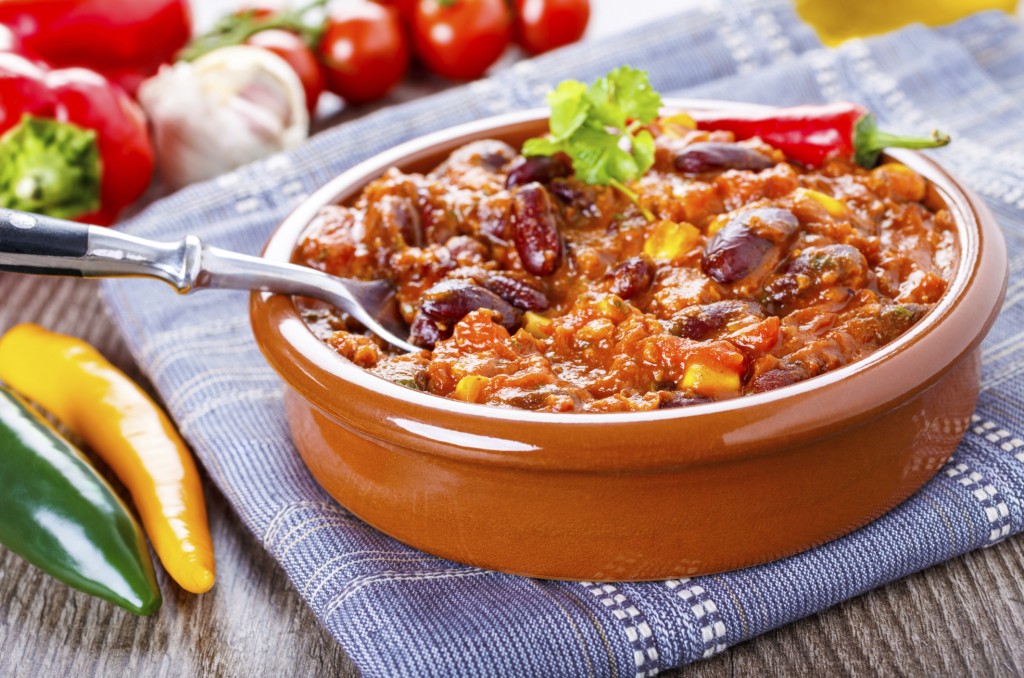 Click here to read Chef's informative article on how spicy foods help you burn fat and find his fat-burning version of chili at the end.
[sc:EMBMfromRECIPES ]