3 Easy Recipes to Transform Unhealthy Desserts into Nutritious & Delicious Treats
No matter how healthy you are treats are most likely going to be a part of your
dietary choices. And desserts can align with your health and fitness goals so you
never feel like you "messed up" and should just throw in the towel.
Allowing sweets to derail you from the healthy lifestyle you've worked so hard to
develop can be a thing of the past. I know first‐hand. I used to have a very
challenging sugar addiction. I never thought I'd be able to enjoy desserts without
overdoing it.
But I do enjoy desserts and I don't overdo it!
I took small steps toward changing my perception of food and as I developed more
confidence and trust in my ability to make wise choices around desserts, I began to
find the joy in them once again.
Creating nutritious and delicious treats is easy!
Follow my simple guidelines then try out the recipes below. Once you get the idea,
you can play around and create your own homemade delicious and nutritious treats
like I have!
Healthy Dessert Guidelines: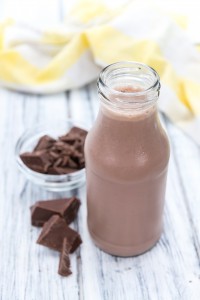 ● Choose a few simple, whole ingredients as your base.
● Use small amounts of a natural sweetener or try cutting it in half.
● Add fiber and healthy fats. You'll feel more satisfied with a smaller portion.
● Try adding sea salt, red pepper flakes, or other spices to balance the flavors and ignite your taste buds.
Three of my favorite additions that boost nutrition by adding fiber, healthy fats, and plenty of vitamins and minerals are: Ground Flaxseed, Coconut and Ground Chia Seed.
Here are 3 of my favorite recent concoctions:
1. Brownie Batter Pudding Cups
Prep time: 5 minutes | Chill: 20 minutes | Yield: 1 Pudding Cup
1 tbsp each: ground Chia seed, coconut butter (virgin, cold-pressed), cacao powder, unsweetened, and raw honey (I use less)
2 tbsps unsweetened coconut or almond milk
Sprinkle of sea salt to taste
Blend all ingredients in a food processor until smooth. Transfer to a small ramekin
and chill in the fridge for 20 minutes. Enjoy!
2. Shot in the Dark Chocolate Milkshake
Prep time: 2 minutes | Blend time: 60 seconds | Yield: 1 large or 2 small milkshakes
1/3 cup coconut cream
2 tbsps Dutch cacao
1 tbsp ground Chia Seed
1 scoop chocolate protein powder (or equal to 1⁄2 serving size)
1/3 ‐1/2 cup water for desired consistency
4‐5 ice cubes
Blend all ingredients in a blender or NutriBullet until smooth. Drink up!
3. Flax and Oats Dark Chocolate Chip Cookies
Prep time: 10 minutes | Bake time: 7‐10 minutes | Yield: 2‐3 dozen cookies
2 1⁄2 cups almond flour
1⁄4 cup ground flax seed
1⁄4 cup rolled oats
1⁄2 tsp sea salt
1⁄2 tsp baking soda
1⁄2 cup almond oil
1⁄2 cup raw local honey or agave nectar
1 tbsp vanilla
1 cup dark chocolate chips
1. Preheat oven to 350 degrees.
2. Mix dry ingredients together with a fork to remove any clumps.
3. Add wet ingredients and incorporate well.
4. Mix in chocolate chips.
5. Use a rounded tablespoon to form packed‐in balls. Leave the dough in mounds
— do not press down.
6. Place on ungreased cookie sheet and bake for 7‐10 minutes.
Isn't life sweet?