5 Simple Ways to Improve Your Personal Brand and Following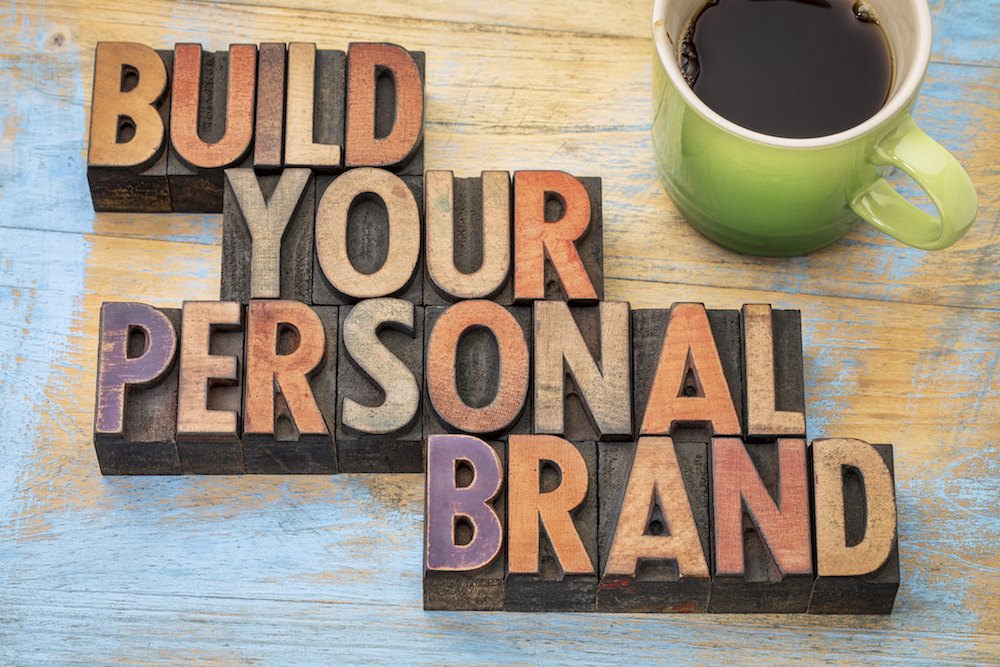 Have you ever stumbled across a new personality on Instagram or Facebook and wondered what they were all about?
Maybe you found them in your feed, or saw them as a personality of interest on a friend's page.
Regardless, you wanted to know more. You found that their Instagram page linked to their Facebook page (and vice-versa). You Googled them and quickly found their LinkedIn page and their personal website. Within a few minutes, you had all of the information you wanted—and then some. And, you followed them on all of your favorite channels so that whenever they did something interesting, you would know. Right away.
It gets even better. You now recognize them on commercials and feeds because they have a unique logo they add to their content. Their sign-off is the same on all of their videos. And they have a unique way of dressing that sets them apart from the crowd.
That's masterful personal branding.
In this day and age, it's not enough for entrepreneurs to wang-jangle some text-based website and post once a month on Twitter. You need to be present, active, and recognizable.
Fortunately, the tools for honing your personal brand are at your fingertips—and, for the most, are free. To that end, here are 5 straightforward ways to burnish your brand and build your following. As you position yourself as an expert in your field, you can start to leverage your reputation for sales.
1. Spruce Up Your LinkedIn Profile
This is #1 for a reason. LinkedIn is becoming the main jumping-off point for the majority of individuals seeking to grow their personal brand, which is exactly what LinkedIn was built to do.
In boosting the "strength" of your LinkedIn profile, you're fully utilizing features that dovetail neatly into what clients need to see, such as an optimized personal summary, job descriptions, and endorsements. Ensure that your job experience and credentials are well-reflected on your profile, and beef up your endorsements and recommendations sections by asking 5-10 previous coworkers or clients for some nods.
Also, share and write original content regularly. While you're at it, follow big wigs in your industry and engage other users.
A quick note: LinkedIn's algorithm for pushing original content is more generous than Facebook's right now, so you'll probably have good luck getting serious engagement from a timely post. As with any platform, the more regularly you use LinkedIn, the faster your following will grow.
2. Get New Headshots
How many times have you seen poorly cropped webcam photos anchoring an otherwise professional website or profile? Too many, probably.
With professional headshots, you stage yourself as someone to be taken seriously in your industry. You'd be surprised how often they come in handy—on business cards, for speaking gigs, for guest interviews, and so on. Have one ready so you look sharp (and recognizable) in any medium.
3. Establish a Social Media Posting Schedule
Some social platforms are more widely used in certain industries than others. But more than likely, you have a few to juggle. Instead of spending all of your energy manually posting on each platform multiple times per day, set up a posting schedule and use an automatic posting client to do the heavy lifting for you.
In other words, put your energy into your content. Then, connect with platforms like MeetEdgar, Buffer, and Sprout Social to push your fresh content out to all of your networks. Research the best time to post, and be sure you mix up the kind of content you're pushing. Schedule some "oldies but goodies" in the mix to show you have been generating valuable content for a while and that you've positioned yourself as an expert by virtue of your tenure in the industry. 
Manual posts are still encouraged—especially since they showcase more personality—but you can remove a lot of posting tedium from your schedule by signing up for one of the platforms mentioned above.
4. Write Thought Leadership Posts
When prospects and clients follow you on social media or regularly track you in the news, it's likely for two reasons: 1) They trust you, and 2) they consider you to be a thought leader in your industry.
One of the ways you earn the public's trust is by articulating your values and acting in accordance with them. But thought leadership is valuable in this vein, too.
Think of someone as impactful as Simon Sinek. His insight on leadership and entrepreneurship is legendary, but he had to put himself out there to become the industry's foremost thought leader. He generates content on a regular basis that asks questions of every stripe, and he engages in interviews that address tough, timely topics.
He also practices what he preaches.
Do the same thing. Show that you know your industry by writing and talking about it. Publish constantly on every facet of your field and share on social media so people come to know you as not just an expert, but someone who is driving your industry. Also, be sure to visibly share your business successes so you have proof that your work aligns with your philosophies.
When you consider possible topics for thought leadership content, lean on problems people in your industry are facing or questions that are continually asked. Be the first to offer an answer—and do so with research to back up your opinion.
5. Regularly Attend Networking Events In Your Industry
Personal branding doesn't stop with your online presence. It extends to in-person engagement and presentation—i.e. how you dress, how you communicate, and how you connect.
An easy way to network and start fostering your personal brand "in real life" is on the local scale. Position yourself as a local authority in a niche at networking events or free meetups, and connect with other local influencers over coffee. When you're ready, you can even sponsor/host your own events and encourage those in your network to attend. Offer incentives—free food, schwag, products, or something else of value. These will boost attendance.
Also, be sure you take full advantage of in-person networking opportunities. Spend time with people one-on-one so they get a sense of your personality, energy, and vibe. They will more likely trust and follow you if they like your ideas AND your personality.
BONUS. Connect with a Mentor in Your Field
Before you become the go-to leader in your industry, make a point to find a mentor who is already widely known and respected. Request their support and guidance as you build your own brand, and ask questions about both your industry and the movers and shakers within it. Their historical experience will be priceless as you seek to uncover the biggest needs and problems in your field—the very things you'll want to address as an up-and-coming leader.
Plus, once you've made it big, you can tip your hat to the mentor who made your success possible. That association always builds trust and likability with the public.
#
Each of the methods mentioned above is an effective way to grow your brand as a business, while also offering opportunities for ever-greater public engagement. If you leverage these carefully, you'll find that in under a year you will have gained an esteemed reputation in your field and it will be much easier to turn prospects into clients.
Nurturing a personal brand takes time and energy, so you'll need a routine to get started. How about this?
Sign up now to get our FREE Morning Routine guide—the #1 way to increase productivity, energy, and focus for profitable days. Used by thousands of fitness, business, and finance industry leaders to leapfrog the competition while making time for the people who really matter. Learn more here.