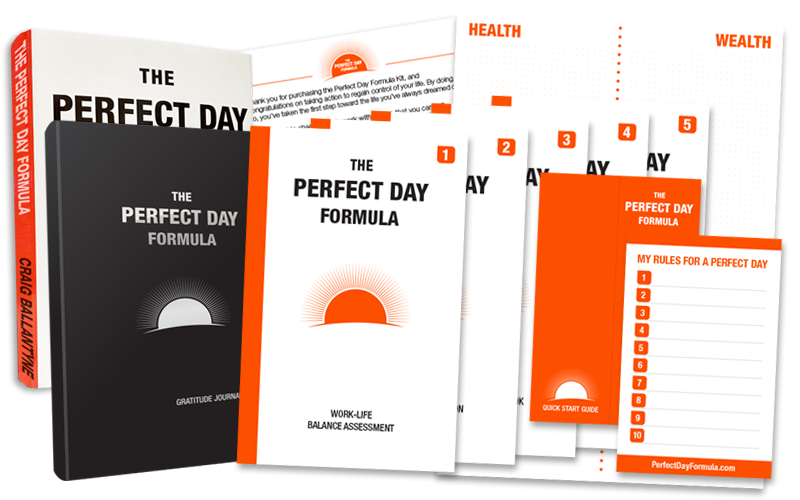 #1: The Mandatory Personal Success Test
Here's a fact no one wants to admit: The No.1 problem that keeps the majority of people from hitting their goals is figuring out where to start.
Apply this patented assessment of your work-life situation to identify what matters most. It sounds painfully obvious, but once you have a clear reading on what you get up for in the morning, you can formulate a direct plan to achieve exactly that.
It's all about channeling your work and time into the results you deserve.
---
#2: Your Roadmap for Success
Using this unique guidebook you'll build the step-by-step roadmap to get what you want, whether it's building more wealth, improving your health, or finding the love of your life. This is everyone's favorite tool in the Perfect Day Formula kit because it unlocks the hidden path to faster results.
---
#3: The New Rules of Goal-Setting
If you've ever struggled to achieve your big goals and dreams, it's simply because you were taught the wrong way to set goals.
In this NEW approach to goal setting, you'll finally discover how to focus on what matters and build the systems that bring you closer to those values and goals. This tool also includes built-in accountability to keep you on track so that you never have a bad day again.
---
#4: The Inside-Out Transformation Blueprint
Perfect Day Formula readers have used this blueprint to establish supplemental income streams, manage their health & fitness goals, find work-life balance, and overcome stress and anxiety. Using this little-known 5-step success system, you too can reprogram your habits to optimize success toward your goals.
---
#5: The Daily Perfect Planning Pad
This tool walks you through how to create the perfect To-Do List for your unique morning. You'll also get a crash course in Craig Ballantyne's scheduling hack for tripling your productivity, teaching you how to resist time-management pitfalls.
---
#6: The Gratitude Journal
According to the New York Times, using this reflection tool is essential to contentment in life. It can promote greater breakthroughs and satisfaction in your career and home life. The best part? Done correctly it only takes 3 minutes every evening.
---
#7: A Bonus Copy of The Book to Pass Along
Many of you have already read The Perfect Day Formula Book, but we've included another free copy in this kit. Sure, you can keep them both, but the purpose is for you to pass along these tools and success strategies to someone else who you feel is driven and motivated, but not reaching their full potential.